No, the Claes Oldenburg "Knife" has not been destroyed. And yes, it has been removed from the building at 817 Hillsdale Ave., where it was installed in 1990.
Margo Leavin, owner of the eponymous art gallery on 812 Robertson Blvd. that closed to the public in 2012, also owns the Oldenburg "Knife." Leavin has sold the building on whose facade it was installed.
"I had to take it down," she said. "It's being cleaned, and it will probably be donated to a museum."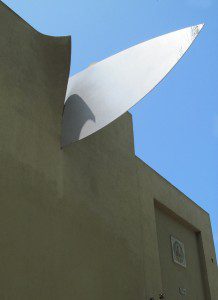 Leavin said she has been annoyed by the rumors that the sculpture was destroyed. But, she added, "I'm happy in a way that people miss it."
Leavin opened her gallery in 1970 and displayed the work of artists such as John Baldessari, Sol LeWitt, William Levitt, Robert Longo, Jeffrey Vallance and Oldenburg. She closed the gallery, cited by L.A. Weekly as the L.A.'s best, in 2013. Leavit cited a change in the way people looked for art, with more attention given to international art fairs that attract celebrity news coverage than to small galleries. Leavitt's archives were acquired by the Getty Research Institute.
Oldenburg and his wife, Coose van Bruggen, described the 850 pound "knife" as inspired by Il Corso del Coltello (The Course of the Knife), a performance they did in Venice in 1985.