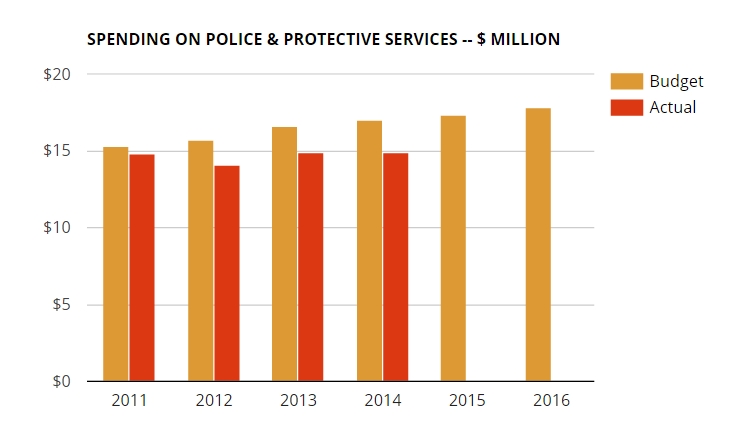 West Hollywood expects to spend over $17 million on policing this fiscal year, about 15% of the operating budget. That's according to a new report by WeHo By the Numbers based on city data.
West Hollywood contracts with the Los Angeles County Sheriff's Department to police the city. The budget includes $1.4 million for a team that works around the bars and clubs at night and $800,000 for special events. The allocation for the city's security ambassadors, who are not police officers, is separate.
The budget for Police & Protective Services has grown 16% since 2011. In four recent years, 2011 through 2014, there was unspent money left over in the budget at the end of the year. During those years, actual spending on policing was fairly flat.
A third-party website, CaliforniaCityFinance.com, has estimated police spending per resident for each city, using data from the State of California. According to those numbers, West Hollywood spent an estimated $433 per resident on policing in 2014. That was about the average for Los Angeles County, but lower than Beverly Hills, Santa Monica, and Culver City. Among nearby cities, Burbank's police spending per resident was closest to West Hollywood's.
The City of West Hollywood believes it is "more economical to contract for these services" than to create a West Hollywood police department. If the city is correct, then some or all of the spending differences may be explained by savings from contracting rather than differences in the services provided.
For more information, please see the WeHo by the Numbers article, How much does West Hollywood spend on policing?