The City of West Hollywood has chosen a name for its forthcoming bikeshare program: Bikey McBikeface. In a press release, the city says: "The bold new name is the result of dynamic thinking that embraces a whole new face for public bikeshare."
"The naming process for Bikey McBikeface included crowdsourced Internet-based naming suggestions, which were collected and then distilled. The process was guided using the careful expertise of an imaginative working group.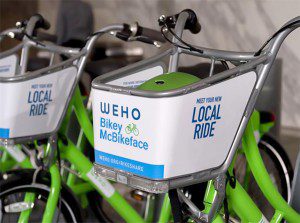 "When confronted with alternatives such as Bikeshare Program and Bikeshare System, the city pledged, instead, to break through the clutter of 21st-century marketing jargon with a concept that has nice features, but that would also be right at home in a schoolyard setting. Bikey McBikeface will change the face of transportation in West Hollywood and will transform McCarCulture.
Additional information about Bikey McBikeface is available online.
West Hollywood's bikeshare program is anticipated to be unveiled in mid-2016 and it will feature 150 "social bicycles" in 20 self-service locations in West Hollywood.
(And for those of you who don't like the name "Bikey McBikeface," happy April Fool's Day!)