West Hollywood will celebrate National Poetry Month during April with a variety of public art displays, events and workshops to honor the art of the written word. Steven Reigns, who was selected as the city's first official City Poet in 2014, conceived of and curated this month's line-up of happenings.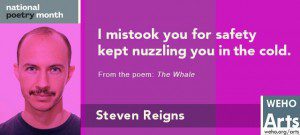 Throughout the month of April, the city will feature a digital public art project, "Poetry In Lights," which will be displayed intermittently on two electronic billboards — one at West Hollywood Gateway (7100 Santa Monica Blvd.) and one at 1OAK (9039 W. Sunset Blvd.) — that scroll through portraits of 22 living poets alongside excerpts from their works.
There will also be lamppost banners displayed along Santa Monica Boulevard between Sweetzer Avenue and Westbourne Drive. Each banner features the image of a living poet on one side and, on the other side, a line from a poem by that poet. Free bookmarks representing the banners will be distributed at West Hollywood Library, at West Hollywood City Hall, and at other locations throughout the month of April.
"I am thrilled with this partnership between the city and West Hollywood Gateway for National Poetry Month," said Alexander Bazley, general manager of the Gateway. "It gives me the opportunity to communicate that WeHo's largest shopping destination shares and celebrates shares the same culture, as well as the desire to inspire people's creativity."
Events celebrating National Poetry Month will be held throughout April. They include:
Sunday, 4 p.m., there will be a book-release party for poet and West Hollywood resident Kim Dower at Book Soup, 8818 W. Sunset Blvd. Dower will read from her collection "Last Train to the Missing Planet." Admission is free and no RSVP is necessary.
Monday, 6:30 p.m., the West Hollywood City Council will officially proclaim National Poetry Month at its regular meeting at the West Hollywood City Council Chambers, 625 N. San Vicente Blvd.
April 11, 2 to 4 p.m., there will be the first of two free writing workshops. A Senior Moments writing workshop conducted by City Poet Steven Reigns will take place in the West Hollywood Library Community Room, located at 625 N. San Vicente Blvd. Reigns has taught senior writing workshops for a decade, and he will encourage novice to experienced participants to generate work for Senior Moments annual publications. To RSVP for the workshop, please contact Corey Roskin in the City of West Hollywood's Social Services Division at croskin@weho.org.
April 21, at 7:30 p.m., Reigns will lead the second free writing workshop, the WeHo Arts poetry writing workshop, at the West Hollywood Library Community Room, 625 N. San Vicente Blvd. In this workshop, which is for everyone from first-timers to prolific poets, Reigns will facilitate a meeting where people will learn to write poetry without doubt or blocks — all that is needed is a willingness to try,and pen and paper. No RSVP is necessary.
April 25, at 7 p.m., Red Hen Press will present Jason Schneiderman, Brendan Constantine and Katherine Coles, reading from their respective collections at Book Soup, 8818 W. Sunset Blvd. Admission is free and no RSVP is necessary.
National Poetry Month, held every April, is the largest literary celebration in the world with schools, publishers, libraries, booksellers, and poets celebrating poetry's vital place in our culture. It was inaugurated by the Academy of American Poets in 1996.
More information about National Poetry Month in West Hollywood, the image  of the digital billboards and more information about the poets featured is available online.