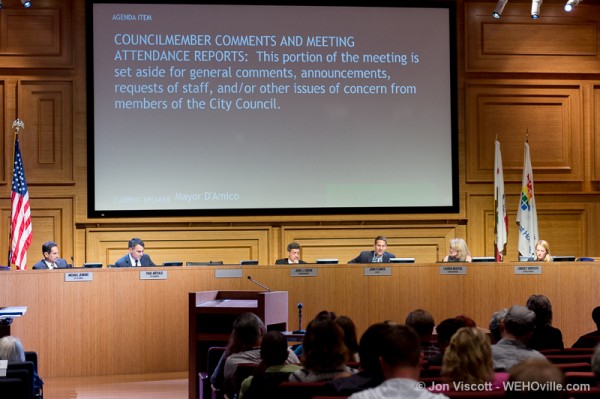 It is 10:26 p.m., and only 11 people who aren't employed by the City of West Hollywood are sitting in the City Council Chambers as the Council takes up one of the most important items on its agenda.
That item, proposed by council members Lauren Meister and John D'Amico, would ask city staffers to research policies and tools to attract and support small businesses to West Hollywood. Laudable as that sounds, parts of the proposal have raised concerns from the business community.
But the only members of the business community who have managed to hang on since the 6:30 p.m. start of the meeting to address the proposal are Genevieve Morrill, CEO of the city's chamber of commerce (who, given her position, doesn't have a choice), and Larry Block, owner of the Block Party apparel store. The dozens of other small businesses owners who might (or might not) benefit from the proposal presumably are run by people who actually have to be at work in the morning.
Several of them did show up at 6:30. But they decided not to wait through the two hours of presentations of plaques, "adjournments" in honor of people like Patty Duke and the victims of ISIS attacks in Brussels, the calling out the names of dead soldiers from across the United States, speeches by Council members about what they've done during the week before and the shuffling of items on the agenda.
Some of that rambling two hours was worthwhile and necessary, once the ego-stroking is extracted. Certainly the Council should continue to honor and celebrate the people and organizations who do good for West Hollywood. Certainly it should "adjourn" to honor local residents who have died (although perhaps John Heilman should drop his habit of honoring dead celebrities like Patty Duke). The "adjournments" could include local military personnel who have died. (But do we need to call out those from Maine and Florida and Alabama?)
Practically speaking, the way the City Council conducts its meetings deters the participation of local residents who want to discuss the specific matters that matter to them. One resident who attended the first part of tonight's meeting said she couldn't stay to the end and couldn't force herself to sit through Council meetings on television, given their length. In the past certain Council members (Jeffrey Prang comes to mind) felt the same way and pushed to cap the length of meetings. Items that weren't addressed by, say, 10:30 p.m., got pushed to the next Council meeting.
So what's a City Council to do if it wants to take time to honor those who deserve it and yet it can't force itself to stop preening in public? A solution might be to push the twice-monthly meetings earlier instead of letting them drag on as late as 2 a.m.
The Council now meets in a closed session at 6 p.m. to discuss personnel and legal issues before moving to the public dais for the 6:30 p.m. meeting. But what if that closed session were held at 5:30 p.m.? And what if that period of public adulation and council member comments started at 6 p.m. (and was strictly limited to 30 minutes)? Then the people of West Hollywood who are interested in a particular item on the Council agenda could show up at 6:30 p.m. with a decent chance of hearing the Council debate and vote on that item without worrying about showing up late for work the next day.
Pushing through that sort of schedule (and enforcing more strongly the Council's standards of conduct)  would increase citizen participation and would be a great way for Lauren Meister to kick off her reign as mayor.