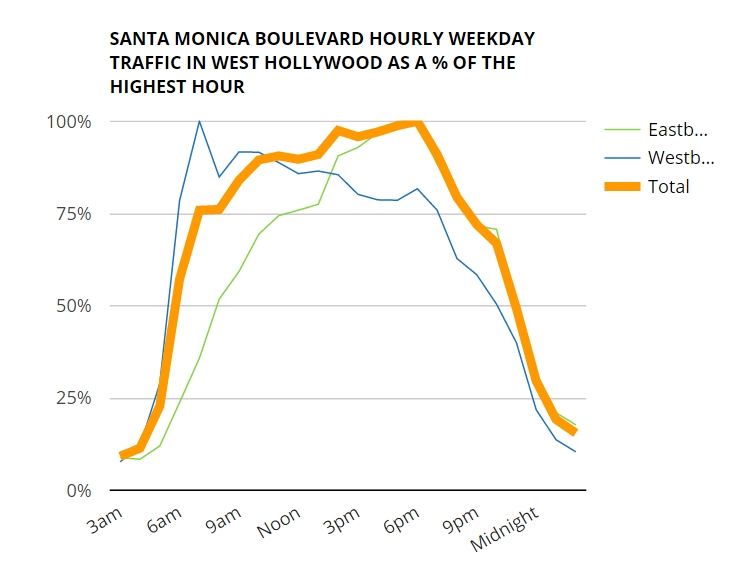 Weekday traffic on Santa Monica Boulevard in West Hollywood ranged from roughly 45,000 to 53,000 vehicles a day, including eastbound and westbound cars, trucks, motorcycles, and buses. That's according to a new analysis by WeHo By the Numbers of 2010 city traffic counts and more recent numbers from the state.
Traffic on the boulevard varied depending on where in the city it was counted. On the Westside — Doheny to La Cienega — there were over 53,388 vehicles per day. That dropped to 46,468 in the center of the city, from La Cienega to Fairfax. There were 45,489 vehicles per day on the Eastside, from Fairfax to La Brea.
These Santa Monica Boulevard traffic volumes were similar to those seen in communities to the west (Beverly Hills, Century City, and Westwood). The volume decreased near the city of Santa Monica. Looking east from West Hollywood into Hollywood, the boulevard's traffic volumes dropped below 40,000.
Comparing 2010 to 1988 — shortly after West Hollywood's 1984 incorporation — Santa Monica Boulevard traffic grew fastest in the center of the city. It increased 66% over those 22 years or so. It also grew 30% on the Westside and 28% on the Eastside.
In many communities, the distribution of traffic throughout the day has a morning peak and an evening peak with lower traffic at other times. The pattern in West Hollywood is different. It can be seen in hourly numbers from a weekday in 2015. Traffic ramped up early in the morning and did not decline after the morning commute. Instead, it continued to grow, reaching a five-hour-long peak or plateau from 2 to 7 p.m. The highest hour was from 6 to 7 PM, but the volumes during the preceding four hours were almost the same.
Traffic dropped from 7 p.m. on, but continued late into the night. From 11 p.m. to midnight, there was still about half as much traffic as the highest hour of the day. For 18 hours a day there was traffic at that level (about 50% of the highest hour) or higher. For 14 hours a day traffic reached 75% or more of the highest hour's volume. They were from 7 a.m. until 9 p.m.
Looking separately at westbound traffic, it peaked after 7 a.m., but did not drop below 75% of that peak until 8 p.m., 13 hours later. Westbound traffic was the bigger part of total traffic until 2 p.m.. Eastbound traffic grew throughout the morning and afternoon, peaking between 5 p.m. and 6 p.m. From 2 p.m. on, there was more eastbound than westbound traffic.
For more information, please see the WeHo by the Numbers article, How much Santa Monica Boulevard traffic is there in West Hollywood?