As West Hollywood readies itself for another exclusive, private club, Gwyneth Paltrow's branch of London's Arts Club, it seems the parent company of WeHo's original is struggling.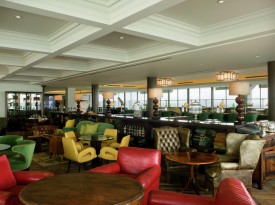 The Financial Times reports that the aggressive expansion of SoHo House has put it in a troublesome financial spot. SoHo House, which originated in London, has a branch in West Hollywood on Sunset Boulevard, one of 15 locations around the world. It is planning more, including one in Los Angeles.
Clearly there's demand for a place "dedicated to hosting the elite creative classes, offering fine dining, glitzy bars," as the FT puts it. "It has 56,000 paying members, up by a third from 2014, with a further 33,000 on the waiting list."
The starting four or five new clubs a year is expensive. FT says Soho House has little credit to borrow against and is running low on cash.
Britain's premier financial newspaper explaiins it all here. (Alert: You might have to pay $1 to read the story, but it's worth it).