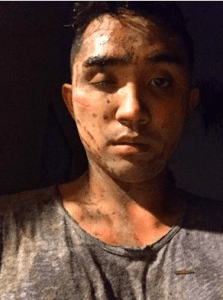 The West Hollywood Sheriff's Department is investigating claims of a possible hate crime near Pavilions grocery store last night.
Christopher Burton, a gay man who also identifies himself as Christopher de la Cruz, posted on his Facebook page around 1 a.m. today about the attack.
"Tonight as I was headed to my car I was attacked and harassed," he said. "And my face (was) pushed to the ground and punched several times. They tried to put a knife against my face but (I) was lucky enough to run and get away. Please watch out and always make sure you have someone with you at night. My cards were taken from me and I don't know who or where they went. Please share and help me find the a**holes who attacked me tonight in West Hollywood."
Sgt. Enrique Mandujan of the West Hollywood Sheriff's Station said someone there saw the Facebook post and reached out to Burton, who filed a report about the attack today. Mandujan said an investigation is ongoing to determine exactly where the attack took place and exactly what happened. He said it apparently happened somewhere near Robertson Boulevard and Keith Avenue.
Burton described the attack as a hate crime. "It was a scary and very traumatic experience," he wrote on Facebook. "It is crazy how hate crimes are still happening and to be picked on and physically abused for being gay is an awful feeling. The support by those around me has been overwhelming and I am very humbled and thankful for the support." As of publication, WEHOville has been unable to reach Burton for a comment.
Burton's Facebook post attracted dozens of comments, some complaining that West Hollywood was no longer a safe place at night. A rash of assaults and cell phone and wallet thefts last year prompted the Sheriff's Station to step up patrols in the city's gay nightlife area, known as Boystown. Sheriff's Capt. Holly Perez has said the station has implemented more foot patrols by deputies.
Burton is catering and events coordinator at The Abbey and also co-founder of Big Heart Event Productions.