Where would you like to find a bike? The City of West Hollywood wants to know.
To find out, it has launched a "suggest a location" feature on the city's website that allows residents to suggest where they think public bicycles for shared use should be available.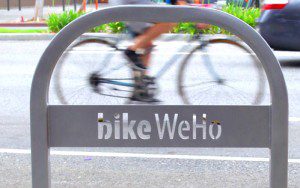 The city hopes to launch the bike sharing program this coming summer. It will make public bicycles available for shared use to people on a short-term basis. There are multiple benefits of bike share: it saves time and money, it reduces traffic congestion and it is improves the health of riders.
"Bringing bike share to West Hollywood means more residents and visitors will have a transportation option that's also great for a healthy lifestyle," said West Hollywood Mayor Lindsey Horvath. "This process empowers the community to locate the most convenient stations that make biking accessible and safe for all."
The city's goal is to gather feedback about where bikes are most needed, where users will want to go, and what would encourage prospective riders to use a bike rather than a car to reach destinations within the city. The city is also inviting community members to suggest sites at key destinations outside of West Hollywood's boundaries to be considered for a future expansion of the program.
The bike share online tool also features detailed information about the upcoming program and it includes a section called "Meet the Bike" for visitors to get acquainted with the unique features of the bicycles. The bike share program will feature 150 "smart bikes" manufactured by Social Bicycles, which will use wireless technology to let riders use a smartphone app to reserve bikes, pay for membership, and track and share ride data with friends in online social networks. The bicycles will feature light-emitting diode (LED) headlights and taillights, and cargo baskets.
To tackle steep climbs to Sunset Strip, the bicycles will feature eight gears. As "smart bikes," all of the technology is located on the bikes, so they can also be locked to any public bike rack, increasing user flexibility and convenience.
Users will be able to find bike share bicycles near transit stops, businesses, and other major destinations within the city. The system also will be linked to the Westside Regional Bike Share program, which includes the cities of Santa Monica and Beverly Hills, and will provide combined access to more than 1,000 bikes.
The bike share program will be operated by CycleHop,LLC, which plans and operates bike share programs throughout North America. Currently, the city has 3.5 miles of bike lanes and sharrows. West Hollywood is actively expanding its bicycle network with the completion of its Pedestrian and Bicycle Mobility Plan update.
For more information, please contact Bianca Siegl, the City of West Hollywood's long range and mobility planning manager, at (323) 848-6853. For people who are deaf or hearing impaired, please call TTY (323) 848-6496.