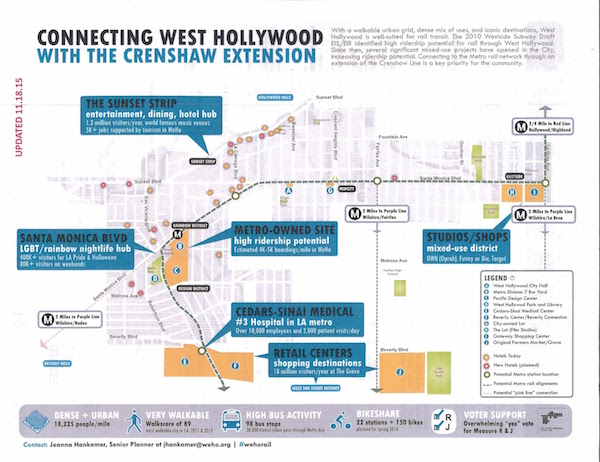 The L.A. County Metropolitan Transportation Authority (Metro) is holding one of a series of public meetings on its proposed mass transit expansion plan in West Hollywood on Thursday.
The meeting will be held at 6 p.m. in rooms five and six at the Plummer Park Community Centers, 7377 Santa Monica Blvd, near Fuller. It is open to the public and parking is available at the Plummer Park lots.
Metro is planning to put on the November county ballot a measure that would extend for 20 years the half-cent sales tax increase that was part of Measure R, which voters approved in 2008. It has been projected to raise $40 billion over 30 years. The increase took effect in July 2009 and is set to expire in 2039. A little more than a third of its revenues are dedicated to new rail or bus rapid transit programs. The ballot proposal also would include an additional half-cent sales tax for at least 40 years, with half of the money generated likely to be allocated to each of Metro's subregions by using a formula based on population and employment figures. The proposal must get the support of two-thirds of voters.
The challenge for West Hollywood is getting Metro to procced with proposed extension of its Crenshaw Line to connect with the Hollywood/Highland Red Line station in a way that best serves WeHo. Metro's target budget for the extension assumes it will run from San Vicente Boulevard and then along La Brea Avenue on WeHo's eastern border to the Hollywood/Highland Red Line station for a total of six miles. But Fehr & Peers, a consultant hired by the West Hollywood, has pulled together data to argue that running the extension from San Vicente to Santa Monica Boulevard for nine miles will better benefit the city and Metro. Other options considered by Metro are running the extension from San Vicente to Fairfax Avenue and on to the Hollywood/Highland Red Line station and ending the extension at the Wilshire/Vermont Red Line station.
According to Fehr & Peers' Direct Ridership Forecast, an extension to the existing 8.5-mile long Crenshaw/LAX Line through West Hollywood could increase ridership by more than 300%. The Fehr & Peers study also notes that while the San Vicente/Santa Monica route is longer, it is closer to more office, service and entertainment jobs per mile (11,415), has more destinations with walking distance (38 per mile) and more low-wage workers employed along the route (3,825 per mile).
City officials are urging local residents to attend the meeting and voice their support for the Crenshaw extension. "It is important that Metro understands that West Hollywood's highest priority for the ballot measure is to secure rail service to our community," Councilmember Lindsey Horvath said in an email message to her supporters today.