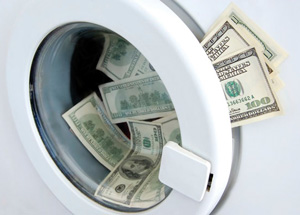 Five of 10 defendants charged in an alleged international money laundering and identity theft scheme, one a resident of West Hollywood, made their first appearance in a federal Santa Ana courtroom today.
The five defendants — arrested late Wednesday — are accused in a scheme prosecutors say involved $14 million in phony tax refunds. The IRS alleges that about 7,000 phony tax returns were filed in the scheme that sought about $38 million in refunds, according to Thom Mrozek of the U.S. Attorney's Office. The agency issued about $14 million of the requested refunds, which were laundered through various bank accounts, Mrozek said.
The refunds were obtained through stolen identities, which is a growing problem, prosecutors said. The defendants used bogus foreign passports to steal the identities and open bank accounts and mailbox addresses, Mrozek said. The mailboxes and bank accounts were opened in various cities throughout the Southland, including Newport Beach, Cypress and La Habra.
The five arrested defendants are:
–Eduard Astvatsatryan, 34, of Glendale, accused of having at least 17 bank accounts and 14 mailbox addresses through various identities taken from phony Armenian passports;
–Hripsime Avagyan, 24, of Burbank, who allegedly had at least six bank accounts and seven mailbox addresses;
–Armen Mkrtchyan, 46, of Glendale, accused of having at least two bank accounts and two mailbox addresses;
–Sargis "Sergio" Tabadzhyan, 54, of West Hollywood, accused of having at least 13 bank accounts and seven mailbox addresses and;
–Artash Stepanyan, 31, of Glendale, who allegedly had at least 14 bank accounts and six mailbox addresses.
The others still sought by authorities are Mkhitar Mkrtchyan, 43, of Sylmar; Karen Pgosian, 45, of Sun Valley; Konstantin Galstyan, 23, of Sylmar, and an unidentified woman and man.