EDITOR'S NOTE: Corey Stedman, subject of the attack described in this story, has given details of the incident to WEHOville and clarifies that he is not gay. The new story can be found here.
A young gay man was assaulted in the early hours of Thursday morning on Santa Monica Boulevard in West Hollywood.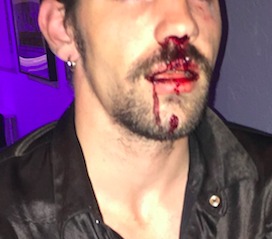 Corey Stedman, 25, was said to have been at Micky's, the bar at 8857 Santa Monica Blvd. near Larrabee earlier in the evening. He was discovered on Santa Monica near Sweetzer around 3 a.m. by Anthony Vulin, a local Realtor who lives on Sweetzer. Vulin said he saw Stedman, apparently injured, and reached out to help. Stedman said he had been assaulted by three Hispanic men who called a fag, a pejorative term used to insult gays. Vulin said Steman was bleeding profusely from the nose and mouth.
Lt. David Smith of the West Hollywood Sheriff's Station said that a detective has been assigned to the case and is talking to Stedman about the allegation that his assailants used a homophobic insult.
West Hollywood has experienced a number of assaults of gay men in and near the city's Boystown nightlife district. One of the most notorious was the assault of Kirk Doffing, who was beaten behind the Rage bar on Santa Monica Boulevard almost a year ago. Doffing still remains in treatment for a serious brain injury. Earlier this month another young gay man, Christopher Burton, who also identifies himself as Christopher de la Cruz, said he was assaulted at night in a hate crime near the Pavilions grocery store. And in January Anthony Villegas, a 23-year-old gay man, was found unconscious near the Gelson's grocery store after an apparent assault.