Jorge Usatorres, the financial executive who saved, rebranded and revived the Faultline, one of L.A.'s oldest gay bars, is moving on. Usatorres announced today that he is selling the bar, which he bought in 2014.
"In so many ways I regret leaving Faultline," Usatorres said. "The people I've worked with — staff, promoters, DJ's, performers — are so amazing. I feel so happy to have met them. But I have accomplished what I set out to accomplish, the saving of a gay landmark. Now I'm ready for new challenges."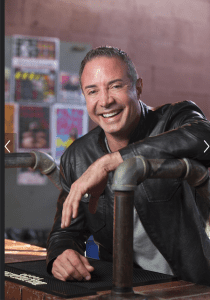 Faultline is a descendent of The Stud, a Levi/leather cruise bar that opened on 4216 Melrose Ave. east of the 101 about 40 years ago. It morphed into Griff's and then became the Faultline. Usatorres made a number of subtle changes to Faultline's interior and more obvious changes to its vibe during his ownership. The result is a very popular bar that some have called a "Gay United Nations" with a crowd from across the gay spectrum.
"My goal," Usatorres said, "was to revive, rebrand, reorganize and ultimately save the iconic Faultline brand." As a parting show of his appreciation to the LGBTQI community, Usatorres has set up two scholarship awards for LGBTQI students at Los Angeles City College. "My dream," Usatorres said, "was to one day to create scholarship awards for LGBTQI students."
In the section of the bar fronting on Melrose, Usatorres removed the ceiling, exposing raw wood rafters that appeal to the Faultline crowd. He also installed some vintage furniture — a couch, armchairs and even repurposed some of the bars hidden gems to reinforce the notion that Faultline is a social hangout and not just a landmark party place.
He also has worked with his arsenal of Hollywood top LGBT promoters to attract a varied and younger audience while still keeping the Faultline comfortable for the older gay male audience that had been its mainstay. His goal he said in an interview last year was to continue to make Faultline "a place where all roads converge in the Gay community. This is a place where everybody leaves their attitude behind"
Usatorres is selling Faultline to the Boldwell Inc. group. Boldwell has committed itself to having the Faultline continue to serve the LGBTQI community into the future. As for his next steps, Usatorres said, "many requests have come in and are being reviewed; however, I see a life of public service for the LGBTQI community in my future. We must not lose our passion, dedication and pride for being LGBTQI people."