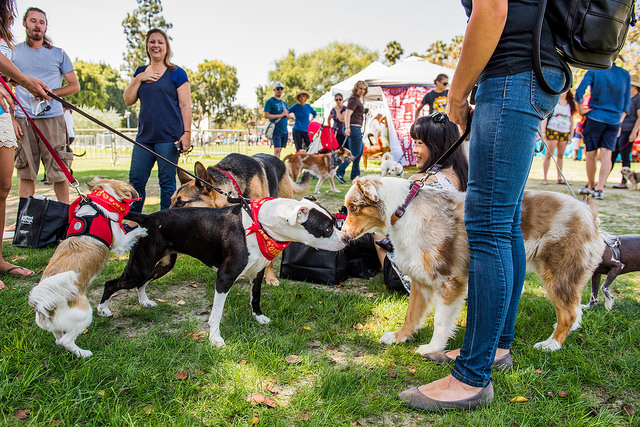 West Hollywood's fourth annual dog festival will take place Sunday at West Hollywood Park.
The event, called Pawsapalooza, runs from 9:30 a.m. to 4 p.m. and is free and open to the public. Dogs are welcome and encouraged to attend — leashes are required.
Parking will be available in the adjacent five-story parking structure for a fee.
This year's festivities will be co-chaired by Wendy Burch of KTLA Channel 5, and Lisa Foxx of 104.3 MYFM, and will feature a marketplace of pet products and services, music, food trucks, giveaways and animal adoptions. The doggie costume contest, which will take place at noon, will be judged Michael Moloney from "Extreme Makeover: Home Edition."
"Pawsapalooza is sure to be a good time for West Hollywood dog guardians and their furry friends," said Mayor Lauren Meister. "I can't think of a better way to spend a Sunday funday in West Hollywood — and no better way to support PAWS/LA!"
Pawsapalooza 2016 is hosted by PAWS/LA, a Los Angeles-based nonprofit organization with more than 25 years of experience helping low-income seniors and people living with a life-threatening or chronic illness by providing essential animal-care services. All proceeds from the event will benefit PAWS/LA's programs.
West Hollywood Park, the site of Pawsapalooza, is currently moving forward with plans for future dog-related improvements, which will include an off-leash dog park. The updated design includes distinct areas for small and large dogs, featuring expanses of open space punctuated by shade trees, small mounds and turf terraces. The dog–area ground materials will include artificial "K9" turf with a drainage system. Dual-gate entrances will allow easy and safe passage into the dog park. Other practical amenities will include water bowl fillers and dog waste stations. For more information, please visit the park project website.
The City of West Hollywood is a leader in legislation that ensures the welfare of animals. In April 2003, the city became the first municipality in the nation to prohibit cat declawing. In February 2010, the city passed an ordinance to address the inhumane conditions endured by "puppy mill" animals by prohibiting the sale of dogs and cats in companion animal stores. In September 2013, the city's fur ban ordinance went into effect, which prohibits retail establishments from selling, trading, distributing, importing or exporting any fur product.