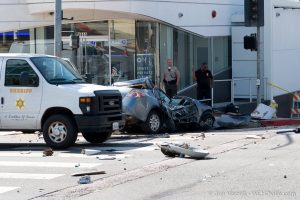 The man killed when he crashed his car Thursday morning on Sunset Boulevard has been identified as Lawrence Simons, 45. The L.A. County Coroner's Office today released his name but it still is unclear where he lived.
The crash, which occurred around 4:30 a.m., resulted in the closure of Sunset between San Vicente Boulevard and Horn Avenue for 11 hours while emergency personnel worked to extricate Simons' body from the car and clean up the sidewalk and street. An examination
revealed he died from multiple blunt force trauma injuries, according to the coroner's web site.
The car, a Nissan Altima, was westbound on Sunset Boulevard when the Simons lost control, jumped the curb, plowed through a storefront construction area, snapped a tree in half and knocked over a parking meter before overturning and slamming roof-first into a utility pole in front of Chase bank.