West Hollywood is looking to increase its environmental friendliness by making the city more suitable for plug-in electric vehicles (PEVs).
The City Council last night endorsed a proposal by Councilmember John D'Amico to, among other things:
— Amend the city's zoning code to require that a certain percentage of parking spaces in new buildings be equipped with electric vehicle charging stations.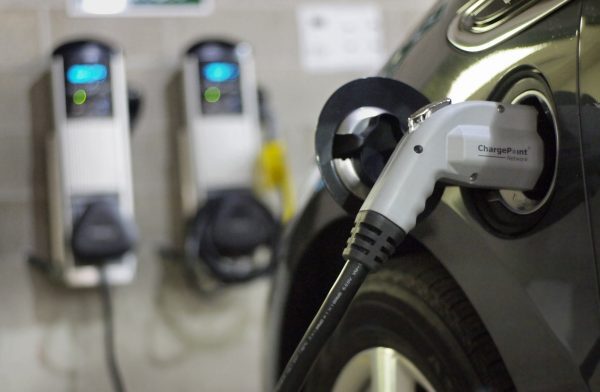 West Hollywood currently requires that at least 2% of parking spaces in covered parking structures or areas with 25 or more spaces be reserved for "alternative fuel" vehicles but does not specify that charging stations be installed.
D'Amico's proposal would require that garages serving new single-family homes and each unit of a duplex include a cabinet, box or enclosure connected to a raceway linking the garage to the electrical service to allow for future installation of electric vehicle supply equipment. Multifamily apartment or condo buildings would be required to include such a connection in 20% of total parking space. Buildings with more than 10 units would be required to go ahead and install the charging units in half of the alternative vehicle spaces.
Commercial buildings would be required to have charging stations in 1% of their parking spaces with another 1% provide the capacity necessary for future installation of PEV charging stations.
— Have the City Attorney look into whether building owners can be required to allow tenants in residential and commercial buildings to install PEV charging stations.
— Ask the city's Transportation Commission to consider incentives for electric vehicle owners such as cheaper residential parking permits or free metered parking.
— Develop a plan for ensuring there is a charging station within one-eighth of a mile of every home or business in West Hollywood.
— Let property or business owners or tenants apply online for a permit to install a charging station and waive permit fees for residential charging station installations.
A report accompanying D'Amico's proposal notes that more than 40% of the electric vehicles registered in the United States are in California. Currently, there are a total of 327 electric vehicles registered to residents of West Hollywood, which is about 179 electric vehicles per square mile.
The report calls out the environmental benefits of encouraging use of alternative fuel vehicles. "The benefits of electric vehicle ownership are environmental and economic," the report states. "Each gallon of gasoline burned in a fuel-powered car generates approximately 14 pounds of carbon dioxide (C02), the major greenhouse gas contributing to climate change. Electric vehicle technology eliminates tailpipe emissions, reduces regional air pollution and helps to combat climate change. In addition, fuel cost savings, tax credits, and incentives often make ownership costs of electric vehicles more affordable than conventional fuel-powered vehicles."