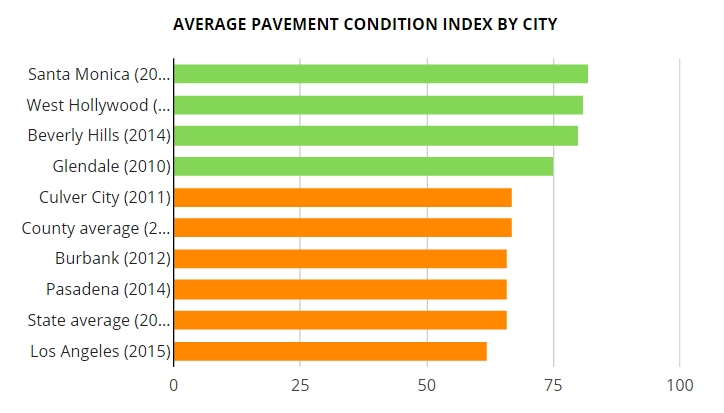 It is true: West Hollywood's streets are in better condition than those in Los Angeles and many other cities. That's according to a new report by WeHo by the Numbers.
The report looks at the average Pavement Condition Index (PCI) calculated by each city. It is a standard measure of the condition of a street on a 100-point scale. A brand new street would be a 100. The more cracks, potholes and other faults, the lower the score.
West Hollywood's average PCI was 81 in 2015. Scores like that are common for individual streets but relatively rare for a city. It was well above the state average, which was 66 in 2012. It was also above the average of 67 for Los Angeles County as a whole in 2011. Put into words, the average West Hollywood street was in "very good/satisfactory" condition, while the average street in the state and county was in "fair" condition.
The good condition of West Hollywood's streets was not new in 2015. The city had a similar PCI in 2011 (79) and 2012 (80) and an even higher score (87) in 2013 and 2014.
West Hollywood's streets were in about the same condition in 2015 as the streets of Beverly Hills and Santa Monica. Santa Monica's average PCI was 82 in 2015. The Beverly Hills PCI was 80 in 2014.
The streets in West Hollywood, Beverly Hills, and Santa Monica were in better condition than the streets in several nearby cities. The street condition in Glendale (PCI of 75 in 2010) was above average but below the three cities. The streets in Culver City (67 in 2011), Burbank (66 in 2012), and Pasadena (66 in 2014) were in average condition. The street condition in the City of Los Angeles was a little below average (62 in 2015). WeHo by the Numbers did not have a full list of PCI scores for Los Angeles County cities, but, in the Bay Area, the lowest PCI was 40 and more than a quarter of cities had scores below 62.
For more information, please see the WeHo by the Numbers article, How do West Hollywood streets compare to other cities?