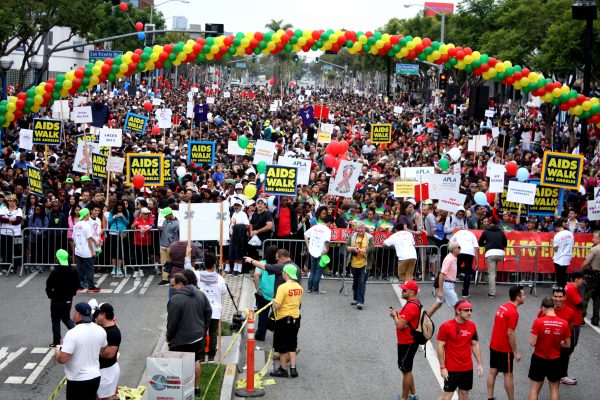 AIDS Walk Los Angeles, for 14 years a major event in West Hollywood and for the LGBT community, is leaving the city for downtown Los Angeles.
The event, which began in 1985, was raised more than $75 million for AIDS Project Los Angeles (APLA), an AIDS service organization whose mission is improving the lives of people affected by HIV, reducing the incidence of HIV infection and advocating for fair and effective HIV-related public policy.
It attracts thousands of people each Fall who are organized in teams, many with corporate sponsors. Typically it begins in West Hollywood Park and also ends in the park after a 10 kilometer walk.
This year's walk, which takes place Oct. 23, will begin in Grand Park in downtown Los Angeles and end there.
Craig Miller, AIDS Walk's founder and senior organizer, lauded West Hollywood for serving as a host of the event over the years.
"This move is an aspirational move," Miller said. "It's not about moving away from West Hollywood, it's about moving forward."
Miller said Grand Park offers a number of advantages, including being in the center of a revitalized downtown with a growing gay community. Grand Park is so large, so event friendly and so able to accommodate a large crowd, a variety of music , so much parking, a metro station that comes up in the middle of the venue," Miller aid.
He said the downtown location also helped APLA get its message in front of a variety of communities. "AIDS Walk Los Angeles continues to enjoy tremendously strong support from the LGBT community and from all races of all stripes," he said. "The area of West Hollywood has a lot of HIV awareness and a lot of HIV services very much in its back yard That is less true of downtown LA, south LA and east LA."
"This is about making the event more accessible to a broader audience," Miller said, noting that APLA is considering offering a free shuttle from The Abbey to Grand Park on AIDS Walk day. "We will take AIDS Walk out of West Hollywood. But we will never take West Hollywood out of AIDS Walk."
The move is likely to worry some members of the West Hollywood LGBT community, who already are concerned that redevelopment of West Hollywood Park next summer will prevent LA Pride from staging its annual festival there.
EDITOR'S NOTE:  A previous version of this story erred in attributing quotes from an interview with Craig Miller, founder of AIDS Walk, to Craig Thompson, CEO of APLA.  The story has been corrected.