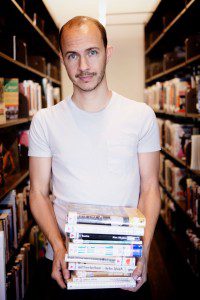 Do you lead a lyrical life? Do your friends marvel at the way you rhyme? Perhaps you should consider applying for the position of West Hollywood City Poet.
The City Poet, a position currently filled by Steven Reigns, the first to hold the position, serves as the official ambassador of West Hollywood's literary culture, tasked with generating excitement about the written word and promoting poetry in the city, including the annual celebration of National Poetry Month each April. The City Poet will also create a new body of work that commemorates the diversity and dynamism of West Hollywood. The two-year term runs from October 2016 to October 2018, with the deadline for applications set as July 14.
Interested poets are asked to nominate themselves no later than noon on July 14. Applications may be submitted online, where all requirements, criteria and details regarding the City Poet position and application process also are available.
The City Poet program is sponsored by the City of West Hollywood through its Arts and Cultural Affairs Commission, WeHo Arts and the interagency West Hollywood Library Cultural Programming Committee.
Steven Reigns, serving since 2014, says, "I'm pleased to have been the very first, and happy to now be a part of the committee that will select my successor. It's a position that requires one have a deep understanding of poetry and the ability to convey its importance. WeHo highly honors diversity, especially in its arts programming, and I look forward to seeing the ways the next City Poet continues this tradition."
Candidates wishing to apply should demonstrate excellence in artistic work and notable public recognition of such, as well as have significant ties to the West Hollywood community and live in Los Angeles County. The position includes a yearly honorarium, and the West Hollywood City Poet will be expected to:
— Enhance the presence and appreciation of poetry and the literary arts in West Hollywood;
— Each year, create an original poem celebrating West Hollywood
— Contribute to the annual West Hollywood National Poetry Month program by selecting poets to be honored on street pole banners.
— Organize a yearly panel discussion/reading/writing workshop as part of the City's "WeHo Reads" program
— Present two additional writing workshops or poetry readings at a West Hollywood school, the West Hollywood Library, a City Council meeting, or another city-sponsored event such as the Russian Cultural Festival, One City One Pride, Women's History Month, Disabilities Awareness Month or Black History Month.