A man suspected in a violent month-long crime spree (including one in WeHo) allegedly refused to leave his jail cell today to appear in court for arraignment on capital murder and other charges. That prompted a judge to order deputies to bring him to court tomorrow, against his will, if necessary.
Artyom Gasparyan, 32, was hospitalized following a Jan. 4 wrong-way crash on the Golden State (5) Freeway in Sun Valley that ended with him being Gasparyan — who was already charged with attempted murder and assault in two other cases — is now facing two dozen additional counts, including murder, for crimes he allegedly committed between Dec. 6 and Jan. 4.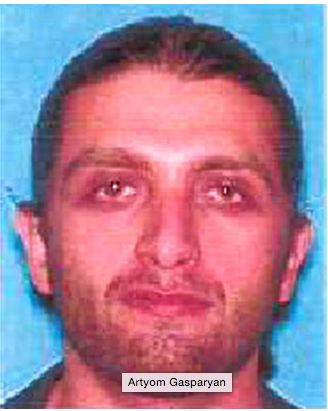 He first appeared in court on the new charges on March 1, but his arraignment was postponed. Since then he's missed multiple court dates.
"He wants to resolve this matter," his attorney told Los Angeles

Superior Court Judge Sergio Tapia. However, she said, "he's unable to walk, he's in tremendous pain" due to being shot in the shoulders, arm, hand and foot.
A prosecutor countered that while Gasparyan missed arraignment last Friday because of a medical issue, the defendant was "refusing to come out" of his jail cell today.
Tapia replied that it was impossible to know for certain what circumstances had kept Gasparyan from court. But given that the defendant had missed his last three court dates, the judge ordered — for the third time — that Gasparyan be forcibly extracted from his jail cell, if necessary, and brought to court on Tuesday.
The murder charge includes the special circumstance allegation of an intentional shooting from a motor vehicle, which makes Gasparyan eligible for a death sentence if convicted. Prosecutors have yet to decide whether to pursue the death penalty against him.
Gasparyan was also charged with 10 more counts of attempted murder, seven counts of second-degree robbery, two counts each of carjacking and fleeing police while driving recklessly and one count each of hit-and-run driving resulting in injury and possession of a firearm by a felon.
Los Angeles Police Chief Charlie Beck said in January that Gasparyan was suspected of being involved in a string of crimes stretching from Burbank to Long Beach to West Hollywood to Carson and Panorama City.
"He's been involved in several carjackings, several armed robberies, at least one homicide, at least four attempted homicides and is a very, verydangerous individual," the chief said then.
Beck said "well over a hundred detectives and several hundred line officers (were) assigned specifically to capture him."
Authorities said Gasparyan was also allegedly linked to another police pursuit that began on New Year's Day near the Harbor Gateway area and ended when a second suspect, Daniel Ramirez, shot himself in the head at a Long Beach home in the 3300 block of Daisy Avenue after shooting two men and stabbing another.
Ramirez, who died of his wounds, was identified by police as Gasparyan's alleged accomplice. The other men survived their wounds.
Police said Gasparyan's alleged crimes also include a Dec. 9 shooting in Burbank, where a 67-year-old man was shot multiple times at his home and a 33-year-old gardener was wounded.
On Dec. 30, Gasparyan allegedly was involved in the shooting death of a 37-year-old man near Van Nuys Boulevard and Plummer Street that was initially reported as a road rage incident.
Police said in January that they also believe Gasparyan is linked to shootings in the Panorama City area on Dec. 30 that left three people wounded.