Christopher Street West (CSW), the non-profit organization that puts on the annual LA Pride event, has faced blistering criticism from a variety of LGBT people and organizations with its announcement that it is shifting the annual festivals focus to music, moving away from its traditional focus on LGBT history and culture, and raising the admission price by 40%.
APAIT, a non-profit that provides HIV treatment services to Pacific Islanders and people of Asian origin, has said it will  boycott the event, citing the $35 festival ticket as one reason. "APAIT stands in solidarity with members of the LGBT community who feel that the changes made to this year's event are a blatant commercialization of Pride," it said in a recent announcement. An organization called #NotOurPride has organized to promote a boycott.
Rachael Luckey, a transgender activist, has said she is considering organizing a protest at the festival. Luckey is one of a number of transgender people who feel this year's festival is not giving enough time and space to them. Ivy Bottini, a nationally known lesbian activist, has accused CSW of being "ageist" for announcing that it is focusing the festival's programming on Millennials, a term used to describe those born from the early 1980s to around 2000.
LGBT publications have complained that CSW accepted only one gay publication, Frontiers magazine, and the Los Angeles Times as media sponsors (such sponsors promote the event, usually in exchange for a free booth at the festival or other amenities). Recently CSW added Adelante, a gay magazine for Latinos, to the list as a sponsor of the Latino music stage. And The Fight will sponsor the Erotic City event at the festival. Troy Masters, publisher of The Pride, an LGBT newspaper, has urged the half dozen other gay publications to join him in protesting CSW's decision to exclude them. And Jay Jones, publisher of Rage, a gay magazine, said he wouldn't be willing to sponsor LA Pride if he was asked. "CSW has gone in a direction that doesn't embrace Pride for everyone," he said.
Local small businesses and organizations are protesting CSW's refusal to lease them booths at the festival, as has been done in the past. Booths now are available only to corporate sponsors such as Delta and Budweiser, who pay as much as $10,000 to sponsor the event, and to non-profit organizations. Will Hackner, president of Varsity Gay League, has complained about that decision in a post on Facebook.
So how has CSW been responding to the criticism? Here are the key concerns raised by LGBT activists and local residents about the June 10-12 festival and parade and CSW's responses.
HIGHER TICKET PRICES
The festival's daily ticket price this year is $35. That price, a 40% increase over last year's $25, has outraged many community members, who say it makes the event unaffordable. (Tickets can, however, can be bought in advance for $30, a 50% increase over last year's early purchase rate of $20).
In response, CSW has agreed to grant free admission on Friday night between the hours of 6 and 8 p.m. While West Hollywood Mayor Lauren Meister asked CSW to extend the free admission period to 9 p.m., it instead has decided to price tickets at $10 for admission after 8 p.m. The City of West Hollywood recently appropriated an additional $15,000 to CSW to pay for free tickets for local residents. CSW and the city haven't yet determined who would be eligible for those tickets and how they will be distributed.
LESS TRANSGENDER FOCUS
Members of the transgender community are upset about CSW's increase in admission costs and the festival reprogramming, which they say reduces its transgender focus. Last year, for example, the festival had a Friday trans party. And in 2014 CSW described its event as TLGB, putting the initial for transgender in front of the acronym to signal its focus on the transgender community. Rachael Luckey, a trans community activist who is also active in the Stonewall Democratic Club, has raised the possibility of a demonstration outside the festival to protest its changed focus.
In response to complaints from the transgender community, CSW has agreed to offer a limited number of free three-day passes to underprivileged transgender people. Those would be distributed through local transgender service organizations. As of this date it is not clear whether there will be further responses to the trans community's complaints. CSW also offered to let the trans community have a stage for four hours on Friday night in the El Tovar Place parking lot.  That offer was declined.
SHORTER LESBIAN EVENT
Ivy Bottini, a prominent lesbian activist, has complained to CSW about its decision to limit the Dyke March and rally, traditionally the festival's opening event, to 6 to 8 p.m. on Friday. Bottini said that won't be sufficient time for the lesbian participants to complete their march and return to the festival and have time to dance and mingle. In its email to WEHOville, CSW said it will keep the hours at 6 to 8 p.m.
NO SMALL BUSINESS BOOTHS
This year local small businesses are unable to rent a booth or table inside the festival to promote themselves. In the past many small businesses have purchased booths in the park to promote products ranging from vitamins and protein powder to jewelry and clothing designed for the gay market. Such booths this year are available only to non-profit organizations and to CSW's major sponsors, such as Delta Airlines and Budweiser, who pay $10,000 for a float in the Gay Pride parade and a booth inside the festival. Some 50 booths will be available for a charge of $500 each to non-profit organizations.
CSW initially said it had to eliminate the local small business booths because the planned redevelopment of West Hollywood Park meant less space to work with. However, the park development cited by CSW as the reason for eliminating small business booths won't begin until after this year's Pride festival. In response to a question from WEHOville, CSW now says it is limiting the park space this year so as to plan ahead for how it will use the space next year, when the park will be under reconstruction, and to accommodate a new festival layout and "experiential art."
CSW actually will have more space for this year's event. It has leased the Pacific Design Center(PDC) plaza facing San Vicente Boulevard for this first time. That space will be used for the "Latin music stage." CSW recently moved its office to the PDC
LIMITING MEDIA SPONSORS
CSW also has been criticized for limiting media sponsors to only two publications: the Los Angeles Times and Frontiers magazine. Sponsors typically are acknowledged on the Pride website and in promotional materials in exchange for their willingness to promote the event. This year, CSW has contracted with Frontiers to produce a "Pride guide" section in its magazine.
This decision drew complaints from many of the half-dozen or LGBT publications that serve Los Angeles County. Those excluded include The Pride, a relatively new gay newspaper; The Fight, a monthly gay magazine, and GED (Gay Entertainment Directory), an entertainment guide. Also initially barred was Adelante, the gay Latino magazine, which has been a media sponsor of the event for 10 years. Adelante posted a complaint on its Facebook page. "Without notice or even a phone call, CSW has decided to turn its back on the only gay Spanish/English Latino publication in the State of California," the complaint read.
Now, however, CSW has added Adelante to the sponsor list along with a Pride.com, a website run by Here Media, owner of Out and the Advocate magazines. CSW did not directly answer a question from WEHOville as to why Adelante is the only local LGBT publication besides Frontiers allowed to be a sponsor. "Our media sponsor program is not just limited to Frontiers and the Los Angeles Times," it said. "Our aim is always to include a diverse group of media partners."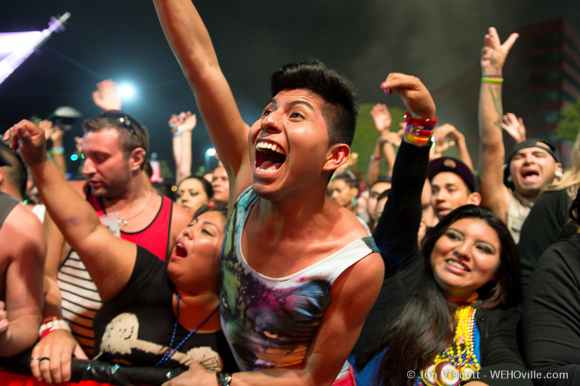 MILLENNIAL FOCUS
CSW has said that its decision to focus the Pride festival on music stems from the fact that a majority of attendees of lat year's Pride festival were younger people who are more likely to respond to music than booth exhibits or other festival events. CSW said that since 2013 it has offered tickets for sale by credit card. An analysis by the ticket purchase processor of the credit card and market data indicated that the preponderance of attendees were young people, it said.
ATTENDEE ELECTRONIC TRACKING
This year CSW will track attendees by requiring them to wear a radio-frequency identification wristband (RFID). That device will enable CSW to grant a person re-entry to the festival after he or she pays an initial entrance fee. RFID devices are controversial because of fears that they can be used to track an individual's behavior and tie it to a specific person. Some people have raised concerns about how CSW will use that information. CSW says it will use the RFID only to grant entry to the festival and will not track which music events or sponsor booths a particular individual visits.
LACK OF TRANSPARENCY
Local LGBT residents who attended a recent CSW board meeting noted that it, unlike Pride organizations in Long Beach, San Diego and San Francisco, doesn't offer access to its tax returns on its web site. Those returns are available, for a fee, from Guidestar.com, which posts the tax returns filed by non-profit groups. Its latest posting from CSW is from 2013. The website also doesn't list CSW's officers and board members or give contact information for them.
CSW has said it plans to post its 2015 tax return when it is completed. Since the meeting with local LGBT residents, CSW has added the name of its board chair, Chris Classen, to the website but not those of its board members or its bylaws.
Craig Bowers, a member of the CSW board of directors, noted that the organization "is made up of volunteer community members from all walks of life. We are not perfect and will make some missteps along the way. No misstep is intended to alienate or disenfranchise any member of our diverse community. For those we have upset, we are sincerely sorry and are working tirelessly to address ways to enhance everyone's LA Pride experience this year."
Bowers also acknowledged that Pride means different things to different people. "While some may look for education and information about the community, organizations, programs, etc. others simply want to come to LA Pride, feel accepted for who they are and enjoy a safe environment of music and friends. Many attendees to LA Pride come from outside of West Hollywood and might not have the opportunity to be so open. Attending Pride is their chance to be out loud and proud. CSW works very hard throughout the year to make sure there is a little something for everyone from the 14-year-old newly out trans identified queer youth to the 70-year-old bull dyke who has been fighting for equality for 50 years.
"These experiences include the parade, the festival, the nonprofit booths, the dancing, art and cultural components that CSW has offered the past few years but it is also music. Music is a universal and often unifying force that brings people together. Naming it a music festival does help to attract the attention of a younger audience but let's be clear, it does not mean that CSW forgets its roots or its heritage."