Opponents of this year's plans for the LA Pride festival have organized themselves into a group called "#NotOurPride" that is calling for a boycott of the June 10-12 parade and festival in West Hollywood.
The group, for whom the hashtag symbolizes its plans to promote the boycott on social media such as Twitter and Facebook, was organized by the Asian Pacific AIDS Intervention Team (APAIT), a Los Angeles-based non-profit organization that provides HIV testing and support services for Asian and Pacific Island people.
It held a meeting Monday night attended by people from organizations such as The Wall Las Memorias, AIDS Healthcare Foundation, API-Equality LA, St. John's Well Child & Family Center, Gender Justice LA and the TransLatina Coalition. Many of the attendees were not, however, officially representing their organizations.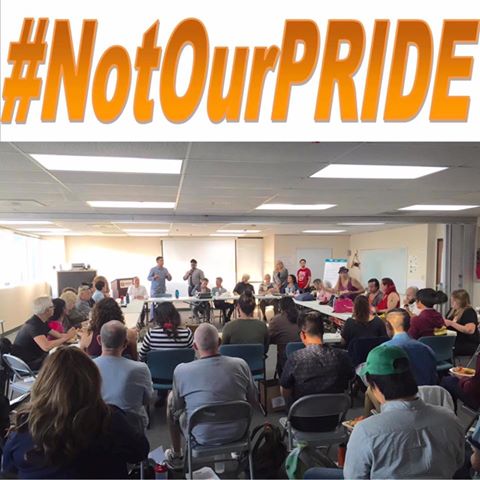 The group's decision to lobby for a boycott of the LA Pride Festival was largely a response to decisions by the new leadership of Christopher Street West, which produces the festival, to rebrand the Pride event as a music festival, increase its ticket prices and reduce the hours of its Friday night transgender party. CSW also has been criticized for reducing the Friday lesbian celebration, known as the Purple Party or Lavender Menace, to two hours from the seven hour free event in years past.
Peter Cruz, associate director of APAIT, said he has been in discussions with Chris Classen, the new president of CSW, about those issues. Cruz said that Classen told him that Pride had been operating in the red for many years, with the 2015 event being an exception. To fix that, CSW decided to expand the festival to three days by adding Friday, June 10, to it. Classen said CSW also wanted to improve what he called "lackluster entertainment."  In making Friday an official part of the festival, for which a $35 daily ticket is required, CSW decided to grant free admission from 6 to 8 p.m. on that date.
Cruz said that Classen also offered to extend the trans celebration to four hours, from 6 to 10 p.m. on Friday, at the El Tovar parking lot stage at the south end of West Hollywood Park. He said Classen also promised that  CSW would continue the Friday night trans event at future Pride festivals.
The several dozen people attending the #NotOurPride meeting Monday voted unanimously to reject Classen's offer. "The trans community feels that there should be no compromise or negotiation when it comes to respecting their presence and contributions to the Los Angeles LGBTQ community," #NotOurPride said in a statement provided to WEHOville. "CSW's Board of Directors initially voted to reduce the Friday night event to two hours without consulting with the community. When the community attempted to voice their concerns to CSW's board, they received a cold shoulder and were literally shown the door.
"For weeks, CSW insisted that they would not be able to make changes to their festival schedule and would not be able to accommodate the community's request. We feel that the reason CSW has finally decided to extend the hours from 6 to 10 p.m. is to quell the negative publicity that they are receiving as a result of their decisions. Our silence cannot and will not be bought."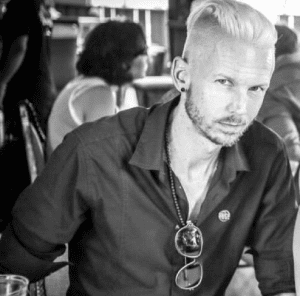 Cruz said that Classen responded to concerns about the 40% increase in ticket prices ($30 if purchased in advance and $35 if purchased at the gate) by saying additional revenue was need to cover larger expenses this year. Those increased expenses include added security, more musical talent and festival logistics. Classen also stated, as previously reported, that CSW plans to supplement a $15,000 ticket subsidy from the City of West Hollywood with $45,000 worth of three-day passes that would be given to non-profit organizations to distribute to the community. Cruz said that Classen proposed that APAIT handle that distribution. APAIT and #NotOurPride declined.
Cruz noted that subsidies from CSW and the city could provide about 1,100 tickets for people in need, 100 of which Classen told him would be directed to transgender people. "We would like CSW to be transparent as to how the remaining 1,000 tickets will be distributed. We also ask CSW to disclose the accountability measures that they will implement to ensure that the tickets are distributed to individuals in need. We strongly feel that the current pricing structure for LA Pride creates division within the LGBTQ community.
"Members of the community have the right to celebrate Pride regardless of their ability to pay and should not have to rely on taxpayer funded ticket subsidies. We feel that entry to the Pride festival should be on a donation basis, as it is done in San Francisco and other major cities."
Finally, #NotOurPride objected to the recasting of the annual event in West Hollywood Park as a music festival. Cruz said Classen told him that 80% of festival attendees last year were Millennials, young people born from the early 1980s to 2000, and that a music festival was more appealing to them. Cruz said Classen "emphasized that CSW plans to ensure that the festival is inclusive of all LGBTQ communities and will feature members of each community through the various festival stages, art installations, and booths."
But Cruz said he told Classen that the focus on Millennials excluded the other 20% of the LGBT community. Cruz also argued that the LA Pride website is evidence of CSW's focus on entertainment rather than LGBT causes and history. The "website does not provide any historical information of the origins of the Pride movement," he said in his statement to WEHOville. Cruz noted that the only reference that Pride as an LGBT community event on CSW's website is a footnote at the bottom of the page.
Cruz said Classen told him the website will be updated in coming weeks and that CSW is recruiting LGBT people to be featured in a "Own Your Pride" marketing campaign. #NotOurPride declined Classen's offer to help recruit people for the campaign.
"Community members strongly object to the intentional erasing of the Los Angeles LGBTQ community's legacy and history by CSW," said a statement from #NotOurPride. "Furthermore, the community rejects the division that CSW is creating between various LGBTQ communities and organizations with their festival plans. In addition to disrespecting the trans community, CSW has also reduced their plans for the Friday night Dyke March without consulting with the lesbian community. Additionally, CSW is creating a divide between LGBTQ age groups by intentionally excluding older adults and senior citizens from the focus of this year's event. Finally, CSW is creating divisions between non-profit organizations and community groups by restricting the number of exhibitors at this year's event … We strongly feel that Pride should be the vehicle that promotes unity and inclusion within the LGBTQ community, rather than perpetuate divisions.
"We invite the community to follow the #NotOurPRIDE movement on social media and to support us by expressing your concerns and participating in upcoming meetings and events," the group said in its statement. "Collectively, as one community, we must stand against greed and the intentional disregard of our community's history and legacy."