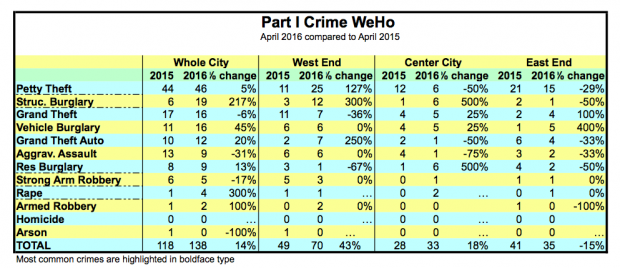 Serious crimes in West Hollywood were up 14% in April over the same month the year before according to statistics from the West Hollywood Sheriff's Station.
Petty theft, defined as theft of items valued at $950 or less, accounted for the largest single category of crime, with 46 incidents citywide, roughly equall to the 44 in April 2015. Those incidents, however, showed an increase of 127% on the city's Westside, the site of most of its nightlife, with a total of 25 last month. Petty theft declined to six incidents in the Center City area and 15 on the Eastside.
The biggest percentage increase was in structural burglary, with 19 incidents recorded last month compared with six in April 2015. The majority of those — 12 incidents — took place on the Westside. The Sheriff's Station announced last month that it had arrested a man suspected of being involved in at least four, and possibly more, burglaries on the west end of Sunset Boulevard in April.
Grand theft, theft of items worth more than $950, was relatively constant, with 16 incidents reported last month. Vehicle burglaries accounted for 16 of the serious crime incidents last month, up 45% from April 2015. Residential burglaries were steady citywide, but up 500% from one in April 2015 to six in April 2016 in the City Center.
Incidents of rape grew from 1 in April 2015 to four this past month.