EDITOR'S NOTE:  Lisa Marchbanks, the executive director of the Trans Chorus of Los Angeles, has contested CSW President Chris Classen's statement below that the group will appear at the LA Pride mayor's event. "TCLA stands in complete solidarity with the the greater Los Angeles trans and gender expansive community and will not participate in LA Pride unless there is a resolution," Marchbanks said.
The Stonewall Democratic Club has voiced its concerns about the direction of this year's LA Pride event, adding its voice to those of other LGBT residents and organizations who are unhappy about its ticket prices and its new orientation as a music festival.
Stonewall, an organization of LGBT Democrats and their allies, sent a letter yesterday to Christopher Street West (CSW), organizer of the Pride event.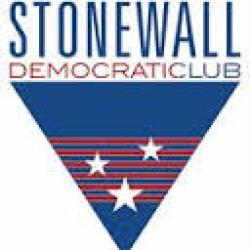 "Although there is much to be appreciated in the great effort it takes to produce an event of this magnitude, Stonewall Democratic Club is deeply concerned with decisions your board has made about the theme of the festival, ticket prices, community involvement and Friday night ticketing/programming," the letter said. "As a result of our concerns, our Steering Committee has voted overwhelmingly to refrain from purchasing a booth at this year's festival. We will make our decision on whether to continue our very long tradition of participating in the parade contingent upon how you address community concerns in the coming weeks."
CSW has raised daily ticket prices for the event from $25 to $35, a 40% increase. Tickets can purchased in advance for $30, an increase of 50% from last year's $20 rate. CSW also has angered some people by reducing programming for lesbians and transgender people.
"As a result of your rebranding, the LGBT rights advocacy agenda that Morris Kight – our common founder – envisioned for our organizations has all but been eliminated from the festival's marketing/messaging," said the letter, referring to the gay rights activist who was a founder of Stonewall Democratic Club and the original LA Pride parade in 1970. "You have also raised ticket prices to a point that is inaccessible to the majority of our community … We strongly believe the preservation of the original intent of Pride festivities as an inclusive LGBT event is paramount to our continued visibility as a community and its activism, and it is unacceptable to sacrifice this aspect in order to make it more palatable to sponsors and enhance your bottom line."
The Stonewall Democratic Club asked CSW to make the following changes in its plans for the June 10-12 event, which features a parade along Santa Monica Boulevard and a weekend festival in West Hollywood Park:
1) Revise and/or redesign your digital marketing to promote LGBT solidarity and include the letters LGBT in the name of the festival;
2) Make efforts to book entertainment that appeals to a wide audience, not solely Millennials;
3) Reinstate the full programming for Lavender Menace and the Trans Party and make it free to the public;
4) Offer reduced ticketing rates to residents of West Hollywood;
5) Offer reduced ticketing rates for low income persons; and
6) After this year's LGBT Pride celebration, host a series of regularly scheduled community meetings throughout the year to inform the public of the direction the board is going, get feedback, hear suggestions and answer questions.
The Asian Pacific AIDS Intervention Team (APAIT) also has expressed its unhappiness with the Pride prices and programming. It has organized #NotOurPride, a group that will lobby for a boycott of the event.
Chris Classen, president of the CSW board, responded to the Stonewall Democratic Club's suggestions in an email to WEHOville.
"We believe that our talent lineup has broad cross-generational appeal," Classen in response to complaints that it was focused solely on young people. "In addition, we have programming on satellite stages and the auditorium that caters to an even broader audience.
Classen also called out a number of events in response to allegations that CSW has reduced events and programming for transgender people and lesbians. "This year's music festival will be the MOST inclusive event CSW has ever produced," he said. He cited the Trans Chorus performance at the June 9 at the Mayor's kick off party, the June 10 Dyke March and Rally and Trans Social event, both free to the public, and the Trans Station installation on the festival groups. Other events not specifically targeting young people that Classen mentioned are the Country Pavilion, which features country/western music and dance, and the three-day Erotic City event. New events include the Vogue Ball with Reach LA and a "youth dance" on June 10 and the Drag Review on June 11.
In response to criticism about the 40% increase in ticket prices, Classen said CSW offers "reduced ticketing rates for low income persons. CSW donates $30k in tickets each year via our nonprofit partners. Additionally, this year the City of West Hollywood is sponsoring an additional $15k for distribution to members of underserved communities (LGBTQ youth, communities of color, homeless youth and the transgender community). As always CSW offers free festival admission with a four-hour volunteer shift." Classen said CSW welcomes Stonewall's suggestion that it hold a series of community meetings after this year's Pride parade and music festival. And he noted that CSW's board meetings are open to the public.