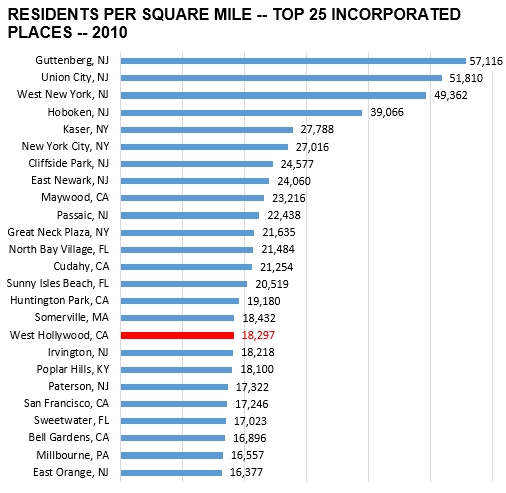 West Hollywood is the 17th most densely populated city in the US and the fourth most in California. That's according to a new analysis by WeHo by the Numbers.
Today, West Hollywood's population density is about 19,000 residents per square mile. In 2010, it was 18,300. That put West Hollywood at number 17 on a list of almost 20,000 cities and towns (sometimes called "incorporated places") in the US.
There were only 16 cities with higher densities than West Hollywood. Ten were in the greater New York area. New York City itself was number six. If Manhattan were a separate city, it would have been number one, but the other boroughs were not as dense, so the average for New York City as a whole was lower.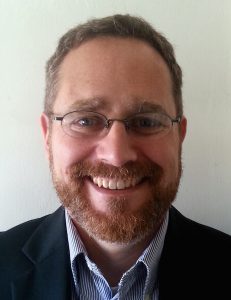 Also ahead of West Hollywood on the list were two cities outside Miami, one outside Boston, and three in Los Angeles County. Those three were Maywood, Cudahy, and Huntington Park. Two other California cities, San Francisco and Bell Gardens, were in the top 25, but lower down than West Hollywood. Santa Monica was number 127.
Looking at California today, West Hollywood is the fourth densest city in the state. It is denser than San Francisco, which has about 18,500 residents per square mile. Maywood has the highest density, with almost 24,000 people per square mile. West Hollywood is 20% below that. Maywood, Cudahy, and Huntington Park are all in the southeast part of Los Angeles County.
West Hollywood's population density puts it in the 99th percentile for California cities. Santa Monica is in the 95th percentile. Los Angeles and Culver City are both around the 90th percentile. Glendale, Pasadena, Beverly Hills, and Burbank are all around the 80th percentile.
The actual differences are even bigger than the percentiles suggest. West Hollywood's population density is 70% higher than Santa Monica's, more than twice as high as that of Los Angeles, and three times that of Beverly Hills.
For more details and a comparison to Los Angeles' denser neighborhoods like Koreatown, please see the WeHo by the Numbers article, How dense is West Hollywood?