West Hollywood's City Council members aren't likely to turn off, tune out and power down at public meetings anytime soon. The Council last night effectively rejected a proposal by Mayor Lauren Meister that would have barred elected or appointed city officials from using cell phones or laptops or tablets while conducting a public meeting.
As a compromise, the Council did ask the city attorney to come back with an ordinance that would bar use of electronic communication devices during official public hearings.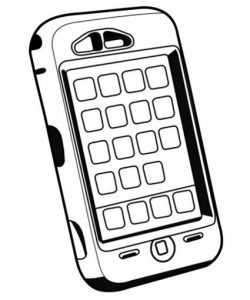 "I brought this forward because i thought for our progressive city this is an item about transparency, this is an item about due process," Meister said. " … When we hold public hearings the public has a right to have our full attention." Meister said she would exempt those who used electronic devices because of a handicap or using a device to take notes.
One of the most vocal opponents of Meister's measure was Councilmember John Duran, who was accused at a March meeting by Councilmember John D'Amico of "trolling on Grindr for men." Grindr is a mobile phone app that gay men use mostly to find sexual partners. It is accessible only by cell phones or tablets. Duran denied the allegation.
It was D'Amico's accusation that apparently prompted Meister's proposal. Residents also have expressed concern that council members are looking at their cell phones while they are speaking to the council and that council members might be getting instructions during debates on important issues from lobbyists and people who have funded their election campaigns.
"I think that the item is too broad and either needs to be restricted or voted down," Duran said. He said he uses his cell phone during council meetings to look at email messages and past council agendas and take notes. "I also occasionally use Wikipedia," Duran said. Duran received a text message during last night's meeting about a search for three armed robbers in West Hollywood. He used his cell phone to send out a message warning his contacts that Sheriff's deputies were looking for the robbers and to warn them.
Councilmember John Heilman also opposed the proposal. "I do believe it is possible to pay attention even while you are checking on your phone," Heilman said. "I don't think there's any real need for it … I have sat through lot of public meetings. Every council member — I have never seen one who wasn't paying attention."
Councilmember Lindsey Horvath said she supported the intent of Meister's proposal but wasn't sure she agreed with all of it. "From what I have heard, it's not so much the use of the device but what it is we're doing with it," she said.
Councilmember D'Amico supported Meister's proposal, saying that getting off digital devices would "center" council members in the room where they are meeting. "We wouldn't be in other places on the internet. We would just be here for the public in this room."