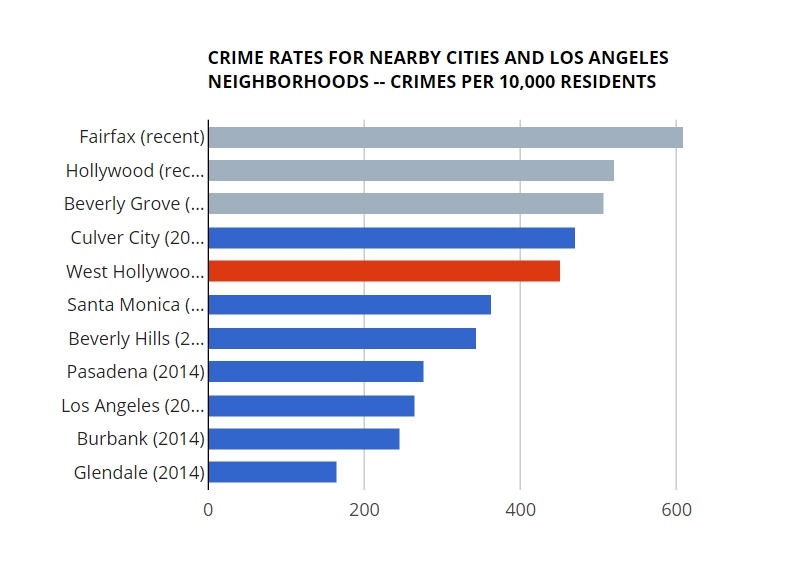 West Hollywood's crime rate was higher than that of Beverly Hills and Santa Monica, but lower than Culver City's (except for violent crime). That's according to a new analysis by WeHo by the Numbers of data from the FBI and the Los Angeles Times. It expands on their analysis from April that focused on areas to the east and southeast.
West Hollywood's 2014 crime rate was 452 per 10,000 residents. The crime rate was calculated by dividing the number of reported homicides, rapes, robberies, aggravated assaults, burglaries, thefts, motor vehicle thefts and arsons by the city's population. It does not take into account other factors, such as the mix of crimes or the number of non-resident workers and visitors in the city.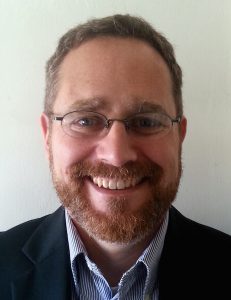 West Hollywood's rate was 25% higher than that of Santa Monica, which had 363 crimes per 10,000 residents. It was about one-third higher than Beverly Hills' 343 per 10,000 residents. It was 60% or more above the rates in Burbank, Los Angeles as a whole, Pasadena and Glendale.
West Hollywood did not have the highest crime rate in the area. Its rate was 4% lower than that of Culver City, which had 471 per 10,000 residents in 2014. It was also 10% to 25% lower than three nearby areas of Los Angeles — Beverly Grove, Hollywood and Fairfax — based on their recent crime rates.
When it comes to violent crime, West Hollywood had 75 incidents per 10,000 residents in 2014. That was about 75% above Culver City's rate. It was double the violent crime rate in Santa Monica and more than double the rate in Beverly Hills. It was lower than recent rates in the Hollywood and Fairfax neighborhoods.
Among nearby cities, Culver City had the highest property crime rate. It was almost 15% higher than West Hollywood's rate of 377 per 10,000 residents. Santa Monica's and Beverly Hills' rates were around 15% lower than West Hollywood's.
For more information, please see the WeHo by the Numbers article Part 2: How does West Hollywood's crime rate compare?