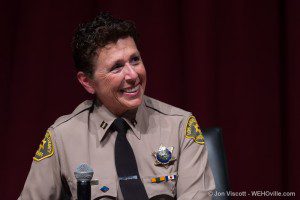 Coffee with the Captain? Another in the series of public meetings with West Hollywood's mayor and the captain of the West Hollywood Sheriff's Station will take place Thursday. At 7:30 a.m.
Dubbed a "sunrise discussion," this meeting will be at the Starbucks at 8595 Santa Monica Blvd. at the corner of Westmount. It will feature Capt. Holly Perez, who was named head of the WeHo station in February, and Mayor Lauren Meister.
At a previous public meeting with then-Mayor Lindsey Horvath, Perez stressed the importance of her and her officers engaging with residents of the community. The L.A. County Sheriff's Department provides public safety services under contract to the City of West Hollywood.