It started out as a quiet coffee bar and 25 years later has developed a reputation that led MTV to call it the "gayest bar on the planet."
That is The Abbey, which celebrated its 25th anniversary last night with a crowd of hundreds of people and dozens of celebrities such as Michael Sam, Ross Mathews ("Hollywood Today Live"), Candis Cayne ("I Am Cait") and Heather McDonald ("Chelsea Lately"). And then, of course, there was Bruce Vilanch, Gilles Marini ("Teen Wolf"), Jai Rodriguez ("Queer Eye") and Noah Galvin ("The Real O'Neals").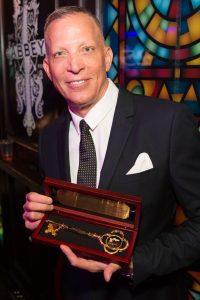 The Abbey Food and Bar, its formal name, has evolved quite a bit since David Cooley, a native of Solon, Ohio, opened a coffee shop on Robertson Boulevard in 1991. That was before the era of Starbucks, when people wondered how anyone could make money selling coffee. Cooley did. The Abbey was an alternative to the bar scene in WeHo's Boystown and attracted people in recovery attending AA meetings down the street.
In three years, Cooley moved across the street and transformed The Abbey into a bar. As it is today, The Abbey then was an open space – open doors, open windows, a patio and a fountain — a striking contrast to the typical dark and secretive gay bar.
One measure of its popularity is the fact that at one point it was the single largest purchaser of vodka in the world, and helped popularize the flavored martini trend. It was a hangout for Elizabeth Taylor, whose last public appearance was at The Abbey with her dog Daisy. It has evolved in other ways, with a larger heterosexual clientele, something Cooley has welcomed in this era when gay people have gained more and more acceptance. Soon it will even have its own reality TV show.
The Abbey grew physically, taking over a second building, with a patio in the middle, totaling 14,000 square feet. It now has more than 200 employees. Recently Cooley acquired Here Lounge on the Abbey's north side. It is going to be integrated into The Abbey as the Chapel.
For last night's celebration The Abbey was decked out in elaborate white from wall-to-wall, and had a full ensemble orchestra playing throughout the private event. Midway through the evening, Cooley, was presented with a Key to the City by Mayor Lauren Meister.