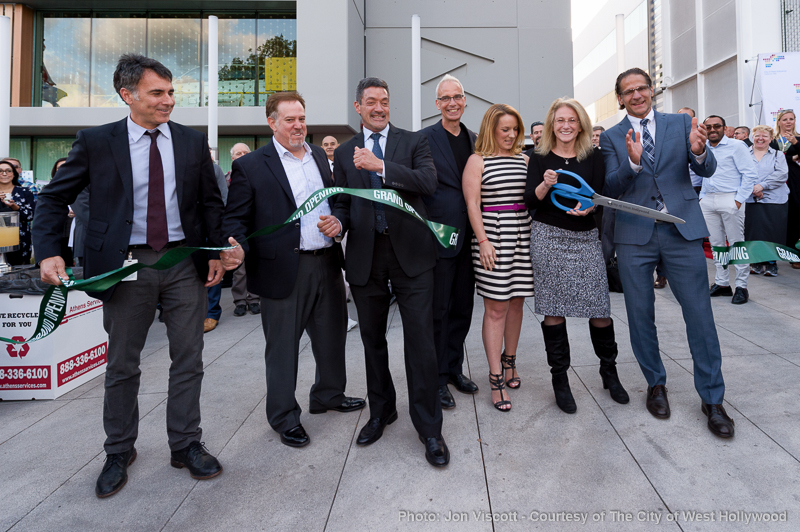 West Hollywood celebrated yesterday the completion of construction of the first municipal fully automated parking garage on the West Coast.
The garage, with 200 parking spaces, sits behind City Hall on a lot that once provided 66 spaces. In addition to the parking it provides two community plazas that can be used for public events.
City employees will begin using the garage on June 1. It will be available to the general public on June 24. The garage will add significant additional public parking to the Center City area, which has seen a boom in nightlife in recent years.
Yesterday's opening ceremony was attended by members of the City Council, city employees and local residents who got a look at how the automated garage works. A driver approaches one of four garage doors on the south side of the building, which is on Sweetzer Avenue. The door automatically opens, and the car goes in. At that point it is pivoted automatically on a revolving platform and taken in an elevator upstairs to a floor where a space is available. The car then is automatically moved to that space, where it is left until the driver returns.
The system is environmentally friendly. Since the cars are non-operational during the parking and retrieval process, the reduction in carbon dioxide emissions equates to removing 92 cars from the road each year or the planting of 67,000 trees.
The garage was designed by LPA Inc., one of the California's largest integrated sustainable design firms. The automated system was constructed by Unitronics, an Israeli company known for its automated parking systems. The project, whose cost is about $18 million, was funded by a $20 million bond issue. Money from that bond issue also was used for repairs to Sweetzer Avenue and for renovations of the Werle Building on Robertson Boulevard at El Tovar Place.
Additional parking spaces are only one of the structure's benefits.
"The West Hollywood parking structure is much more than just a parking solution. The focus was really more about urban place-making through creating additional community open space, strengthening the viability of local business, incorporation of public art and engendering local residents," said Rick D'Amato, principal and design director at LPA. "The efficiency of the AVRS (automated vehicle recovery system) system allowed the resolution of multiple community issues and accommodated a more thoughtful integration of these resolutions within the existing fabric of the downtown environment."
The shell surrounding the parking structure is designed with environmentally friendly materials such as composite wood panels made primarily from recycled plastic grocery bags. The structure also includes roof-mounted photovoltaic solar panels and uses drought-tolerant landscaping.
The parking structure also integrates public art directly into its architectural design.