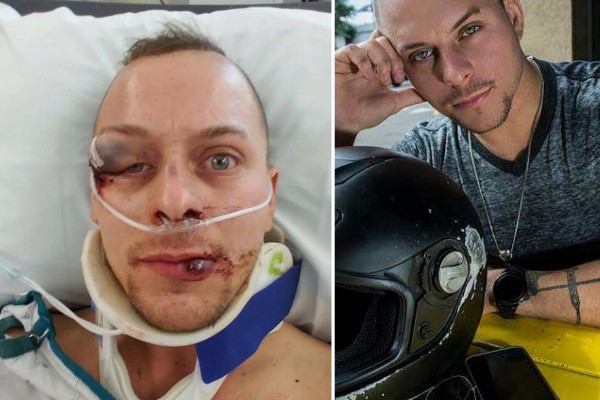 A young man was brutally beaten early Sunday morning after leaving Micky's, the gay bar on Santa Monica Boulevard, at 1:40 a.m.
Brandon Akridge, 27, in an interview with KTLA, said he woke up in the intensive care unit at Cedars-Sinai Medical Center with a breathing tube down his throat. He does not remember the attack.
The attack is the latest in a series in the Boystown nightlife district on the west end of Santa Monica Boulevard, with some also occurring in other areas of the city. Last month a young gay man, Christopher Burton, who also identifies himself as Christopher de la Cruz, said he was assaulted at night in a hate crime near the Pavilions grocery store. And in January Anthony Villegas, a 23-year-old gay man, was found unconscious near the Gelson's grocery store after an apparent assault. Corey Steadman, 25, who is not gay, was attacked and left unconscious on Santa Monica Boulevard near Sweetzer last month.
The most controversial to date was the attack almost a year ago behind Rage bar on Santa Monica of Kirk Doffing, who was left on the ground unconscious. He is slowly recovering but has lost a significant part of his brain. His attackers have not been identified. Doffing's sister, Jackie Geisinger, is raising money for his care and attempting to raise awareness about the assault problem with an event tomorrow dubbed KirkStrong at West Hollywood Park.
WEHOville has been unable so far to reach Akridge. But in a Facebook post he expressed his anger: "2 attacks on gay men in barely a month within a block of each other. Something needs to be done. If a friend didn't find me, I'm fairly sure I wouldn't be here today. I stopped breathing not long after the EMT's arrived. If I was not in medical care I would've died. I grew up in a small town in rural Georgia and never had a problem with my sexuality. Why aren't we safe in WeHo anymore?"
Akridge apparently has yet to file a report with the Sheriff's Department. In another Facebook post this morning, he said: "I keep being told to file a report with the police. I walk down here and am told they are busy that I can wait 2 hours or so to file my report…."
A GoFundMe account has been created online to get help paying for Akridge's medical expenses.