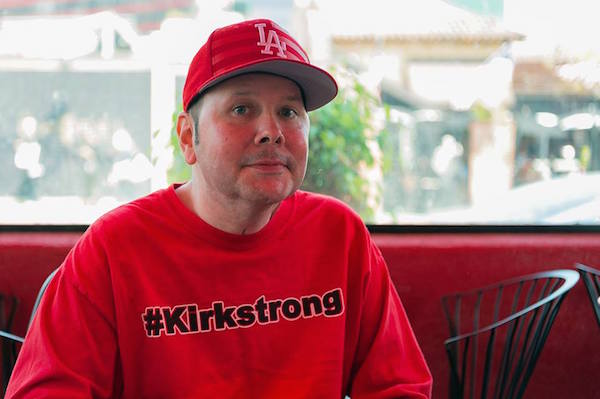 WeHo residents and friends and family of Kirk Doffing rallied in West Hollywood Park today to celebrate Doffing's slow but steady recovery from an attack last year and to promote public safety.
Doffing himself, whose attack on Memorial Day weekend last year seriously damaged his brain, showed up at the #KirkStrong WeHo Safety Saturday event. Somewhat unsteady, Doffing nevertheless moved through the crowd with a smile on his face, occasionally waving at those around him.
Doffing, a resident of West Hollywood for almost 14 years, was assaulted around 9 p.m. on May 24 of last year in the alley behind Rage, the gay bar on Santa Monica Boulevard near San Vicente. The assault left him hospitalized for months followed by stays in a series of rehab facilities, in one of which he remains.
Jackie Geisinger, Doffing's sister and the organizer of the event, cited what she called the "three P's" as keys to his recovery. "The first is People," she said. "I know the power of love and family and friends." Geisinger said the second "P" stood for the physicians and other staff at Cedars-Sinai Medical Center and the three other facilities where Doffing has been kept while he works his way toward recovery. The final "P," she said, is "the power of prayer — the Facebook messages, the text messages" and other communications she has received from those who have prayed or otherwise hoped for Doffing's recovery. Geisinger also mentioned a fourth "P" — the online petition that she launched that asks the West Hollywood City Council to install public safety cameras on the sidewalks in busy nightlife areas such as WeHo's Boystown. That petition as of publication had a little more than 16,000 signatures.
Geisinger also has created a GoFundMe online drive to solicit donations to help pay for Doffing's medical care and for the travel expenses incurred by her and Doffing's father and sister, who visit him constantly to assist in his rehabilitation. Geisinger said she has arranged for someone to be with Doffing every single day in an effort to keep him engaged in a way that will speed his recovery.
While the assailants have yet to be identified or apprehended, Geisinger praised Detective Mike Berbiar, the detective who has been assigned to the case. Berbiar speaks with Geisinger often to update her on the investigation, she said, and regularly visits Doffing as well.
Also speaking at the event were Mayor Lauren Meister, who urged residents to call 911 to report crimes and to email her at LMeister@WeHo.org or to contact members of the city's Public Safety Commission with concerns about public safety and the Sheriff's Station's response.
Capt. Holly Perez, who took over as captain of the station about two months ago, also spoke, reiterating Meister's call for residents to report crimes to the Sheriff's Station. Also speaking was Tai Sunnanon, a WeHo resident who suffered a similar attack in 2010 in Washington, D.C., and worked with Geisinger to organize the event.
The rally at the park, which was attended by a number of friends of Doffing's from his hometown of Hastings, Minn., was followed by a bar crawl at which those who donated money for a wristband were offered discounts on drinks. There also was a silent auction at The Abbey of items from local merchants, with all proceeds going to the Doffing fund.