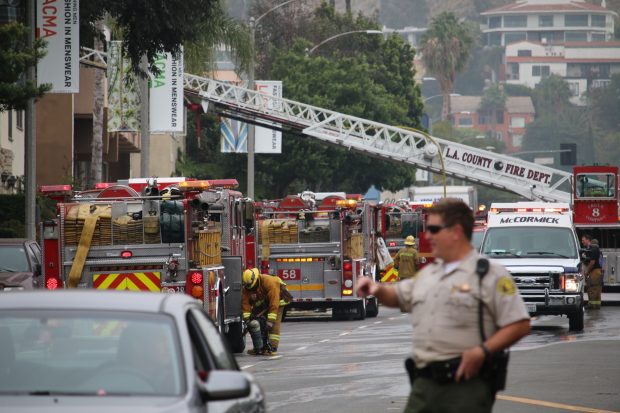 UPDATE:  A firefighter and a resident were injured today in a fire that damaged two units at a two-story apartment building on Fairfax Avenue in West Hollywood.
The condition of the victims, and the extent of their injuries, were not immediately known, said county fire inspector Randall Wright. Both were taken to an area hospital.
Firefighters were dispatched at 9:55 a.m. to the 1401 N. Fairfax Ave. and managed to extinguish the fire out within 25 minutes of their arrival, Wright said.
The fire damaged units on both floors of the two-story structure. Firefighters were at the scene until 1:13 p.m. conducting overhaul and salvaging duties, he said. Fairfax was closed between Sunset and Fountain while they were on the scene.
A cause of the fire and damage estimates were still being investigated. According to the West Hollywood Sheriff's Station the Red Cross has been called to provide possible shelter people living in the building.