In conjunction with LGBTQ Pride Month, The Lavender Effect is launching a community project titled "Queer Spaces: Memories from the French Market Place." This project is intended to celebrate and document the market for its role as a gathering space in regional LGBTQ culture and history.
The French Market Place complex of shops, offices and dining opened in West Hollywood in 1973. It soon became a venue and safe space for social gatherings and meetings by human rights activists from early community organizing in the 1970s to its closing in 2015.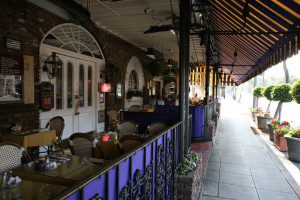 The building, which sits at the intersection of Santa Monica Boulevard and Laurel Avenue, was closed last summer. It and the DBA property to its east have been acquired by Faring Capital. Faring plans to replace the French Market building and its parking lots with a four-story building with three levels of subterranean parking. That building will include 50,000 square feet of office space, 8,600 square feet of restaurant space, 4,400 square feet devoted to shops and a 3,200 square foot space for a bar or night club.
Before the building is razed for redevelopment, The Lavender Effect will collect stories, memories, photographs, and artifacts that will be digitized and curated to document the significant role the French Market Place played in shaping West Hollywood and the gay rights movement. Personal items and recollections, business promotions and ephemera from the French Quarter restaurant and the surrounding small businesses such as Dorothy's Surrender and Baby Jane will be included in the collection. The Lavender Effect is a non-profit project of Community Partners whose mission is documenting the history of LGBTQ people and their movement for equality and acceptance. "This research is made possible with support from Faring Capital, local volunteers and donors to The Lavender Effect," said Andy Sacher, founding executive director.
"The French Market Place holds a significant cultural memory that needs to be documented for future generations," said Sacher. "Some important community interactions took place here, many of which led to the formation of organizations and grassroots activism."
Everyone from the LGBTQ and allied communities who cherishes this unique venue is encouraged to visit QueerSpaces.org for more information and to upload photos, videos and other related materials. An open house will be held in the French Market Place, on a date to be announced, to celebrate its history, share stories and submit materials to be included in the project. Details are available online.