Residents of two apartments in West Hollywood became the first recipients of SAVE cards from the Los Angeles County Fire Department on Wednesday.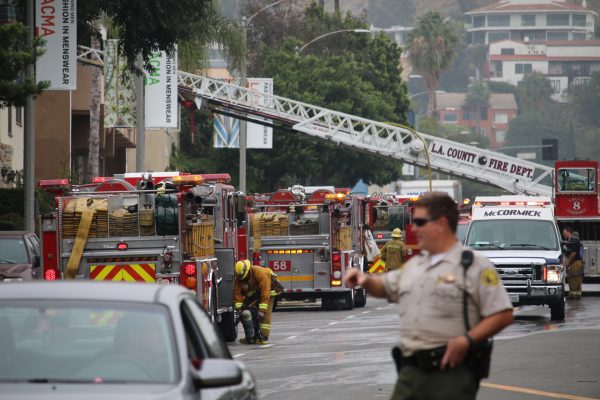 According to an announcement from the department, it was its first day participating in the California Fire Foundation's Supplying Aid to Victims of Emergency (SAVE) program. The program allows firefighters to give on-the-spot aid to families and individuals who suffer substantial property loss in a fire or major disaster, such as an earthquake or flood. The families can use the $100 MasterCard gift card to purchase a meal, clothing or other necessities.
"It's a privilege to be part of a program where we can provide some small restitution at the early stages of an incident," Battalion Chief Kurt Schaefer said in the announcement.
The fire at the two-story apartment building at 1401 N. Fairfax Ave. was reported at 9:55 a.m., Schaefer said. It took firefighters about 20 minutes to put the fire out. A person in one of the apartments and a firefighter were injured and transported to local hospitals for evaluation and treatment.
"When we saw the extent of the damage, and we saw the families affected, we did immediately think of the SAVE card," Schaefer said. "Even though $100 doesn't seem like much, in our situation where families have lost everything they have in a fire, this helps considerably."
The SAVE program is completely funded by donations, many from firefighters themselves, as well as a grant from Chevron and other corporations. No taxpayer dollars are used.