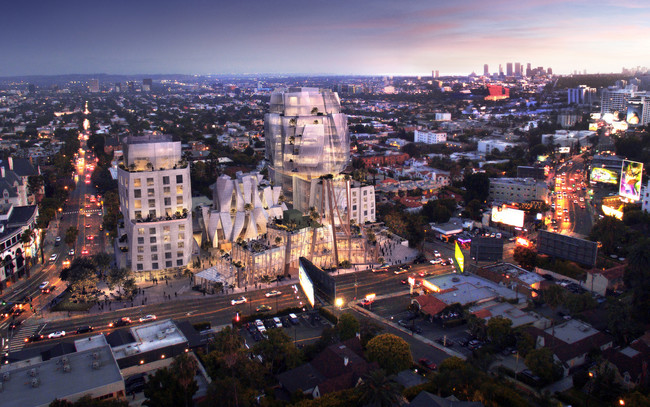 West Hollywood is seeking certain changes in plans for the controversial project at 8150 Sunset Blvd. just outside the city's northern border with Los Angeles.
The changes have been submitted to the City of Los Angeles Planning Commission, which must decide whether to approve a final environmental impact statement for the project. A public hearing is set on the matter for July 28.
West Hollywood's Planning Department is requesting the following changes:
— Eliminate site access along Havenhurst Drive.
— Require deliveries and services (i.e. trash collection, moving vans, etc.) to only enter and leave the project via the driveways on Sunset and Crescent Heights boulevards.
— Upgrade the existing pedestrian crosswalk south of the project site on Crescent Heights Boulevard to a mid-block pedestrian signal and incorporate other pedestrian visibility enhancements such as reflective markings.
— Fund an upgrading of the traffic signal controller equipment, replace existing controllers with more modern Type 2070 controllers, and install battery back-up systems for Fountain Avenue intersections with traffic signals at La Cienega, Crescent Heights, Sweetzer, Olive and Laurel.
— Require installation of a new eight-inch diameter sewer in Crescent Heights Boulevard that would be owned and maintained by the City of Los Angeles, or have the project developer, Townscape Partners, pay the City of West Hollywood $1.2 million to cover the long-term cost of the on-going operation and maintenance of the sewer by the City of West Hollywood.
Townscape's 8150 Sunset project would include approximately 65,000 square feet of commercial space, a reduction from the 111,339 square feet of commercial retail and restaurant space in an earlier plan. on three lower levels (one of them underground) and one rooftop level. In addition, it would include 269.200 square feet of residential space, with 249 market rate apartments and 28 apartments for low income people. Among the amenities it would offer residents is a private pool about 7,000 square feet of space devoted to a fitness center, lobby, library and business center. The 820 parking spaces would be housed in a seven‐level structure, three of whose levels would be almost or completely underground.
A draft environmental impact study of the project released last year projected a 17% increase in overall traffic because of it, with 6,373 trips per day, including 231 trips during the morning peak hour, and 565 trips during the evening peak hour. Of those trips, nearly 5,000 are projected to come from visitors to the project's shops. However a new design by noted architect Frank Gehry has resulted in a reduction in estimated trips to 3,314 a day. That amounts to 18 trips more daily than are generated by the businesses on the site now.
In its lengthy fight to get approval for the project Townscape was successful in having the state give it a special status that would protect it from a prolonged legal battle with residents who oppose it. That status also would bar local agencies from considering the aesthetic or parking impact of the project in deciding whether to approve it.
Increased traffic is only one of several issues raised by nearby residents of West Hollywood who are opposed to the project. The 2.6 acre site is bordered Sunset Boulevard on the north, Havenhurst Drive on the west and North Crescent Heights Boulevard on the east. Havenhurst and North Crescent Heights, which are within West Hollywood's borders, are the site of a number of condominium and apartment buildings.
At a meeting with Townscape Partners in September 2013, area residents also aired concerns over the project's impact on available parking, on the demolition of the Chase Bank building on the project site, which some see as having historical qualities, and on the impact of a 16-story apartment building along Havenhurst.
The project has evolved in several ways since it was announced. Townscape said it will preserve and incorporate into the project a colorful 1960 glass mosaic ("Spatial Kaleidoscope" by French artist Roger Darricarrerre) inside the Chase bank building and a sculpture ("The Family" by David Green) that was commissioned by Lytton Savings outside the building.
Last summer Townscape presented Gehry's dramatic redesign of the project.
EDITOR'S NOTE: An earlier version of this story erred in stating the commercial square footage and auto trips of the 8150 Sunset project, The  commercial square footage has been reduced substantially because of a new design by Frank Gehry.  The story has been corrected to reflect that.