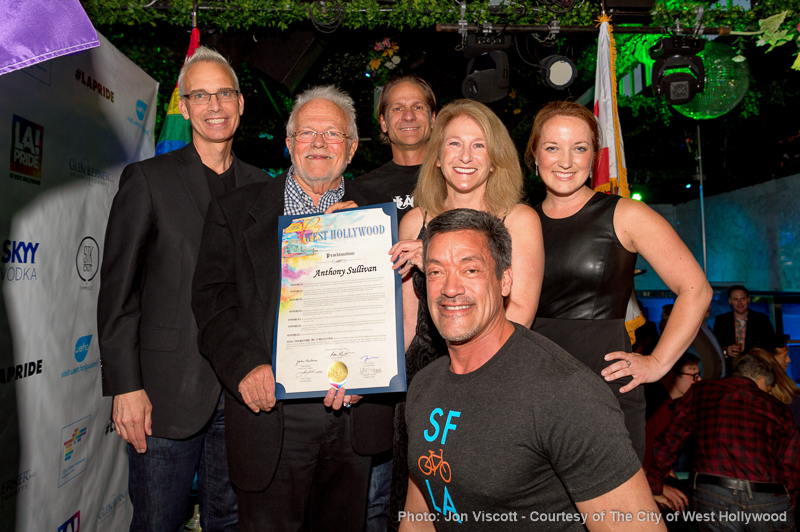 On Thursday WeHo Mayor Lauren Meister kicked off the 46th annual LA Pride festival with a speech at the Factory on Robertson Boulevard. Below are her remarks, in which she called out Anthony Corbett Sullivan, an early figure in the same-sex right-to-marry movement, who was present at the event.

Welcome! My colleagues, community members, friends, and honorable guests – you may be wondering why I chose the old Factory building for the Mayor's Reception. Typically, it's held at a hotel on the Sunset Strip, where parking may be a little easier and there's a great view. However, months ago, I had an idea that this should be the place.
First, I felt it was important to have Pride kick-off here, in Boystown.
Second, I wanted us to be in a building associated with events that have made a significant contribution to LGBTQ history. For those of you who don't remember, or perhaps weren't born yet, in 1968 this building was bought and transformed into The Factory nightclub, named after the furniture manufacturing business that occupied the lower floor of the building.
The Factory became a popular 1960s-style discothèque that was frequented by many Hollywood celebrities. Studio One was founded on the same site in the early 1970s and the club was popular throughout the 70's and 80's.
As noted by the West Hollywood Heritage Project, "Studio One was the main social and political hub of the LGBTQ community. Studio One Disco took the gay bar from small, anonymous, dark windowless spaces, to a huge, famous, first-class discothèque that rivaled all other discothèques, including heterosexual ones…"
Recently, the National Trust for Historic Preservation called Studio One Disco a "pioneering gay disco"… associated with the gay rights movement throughout its history. And that, my friends, is why we are here tonight.
Now, we have a very special proclamation to present. If my colleagues would join me.
Anthony Corbett Sullivan married Richard Frank Adams in Boulder, Colorado in 1975. But when Richard Adams tried to get a green card for his Australian-born husband, Anthony, he was denied. A long legal battle ensued, and because they could not get the green card, they had to leave the country.
Ironically, the circuit judge who ruled against them (1985) was the same man, who voted for marriage equality in 2015, Supreme Court Justice Kennedy.
Eventually, Richard and Anthony returned to L.A., but had to live in, what they called, "the immigration closet."
Richard passed away in 2012. In 2014, Anthony wrote to the President, requesting an apology on behalf of his late spouse who was called a "faggot" by the United States government. A few months later, Anthony received a letter back from the U.S. Citizenship and Immigration Services agency.
The director wrote on behalf of the President, and I quote, "This agency should never treat any individual with the disrespect shown toward you and Mr. Adams. You have my sincerest apology for the years of hurt caused by the deeply offensive and hateful language used in the Nov. 24, 1975 decision, and my deepest condolences on your loss."
Anthony and Richard will rightfully take their place in history as having had the earliest, legally recognized gay marriage in the world. Anthony also received his green card and he is with us today to accept this Proclamation. Please give a warm welcome to Anthony Sullivan. Anthony, if you would please join us.
On behalf of the City of West Hollywood, we thank you for inspiring us, for fighting for what is right, and for proving to the world, that love wins!