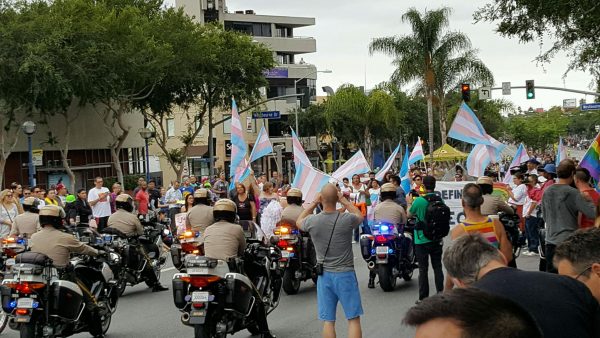 The 46th annual LA Pride parade made its way down Santa Monica Boulevard today despite some real and feared disruptions. The feared obstacle was a report from the Santa Monica police that they had arrested a man on Sunday morning who was planning to attend the West Hollywood event and whose car was loaded with three automatic rifles and a container of explosive material. That news was especially troubling given the massacre of 50 gay people in a nightclub in Orlando, Fla., early Sunday morning by a gunman who professed his support for ISIS, the Islamic terrorist group.
The arrest prompted a major increase in security by the L.A. County Sheriff's Department, which provides public safety services to WeHo. In addition to more deputies on the street, other security measures included bag checks at the entry to the Pride festival in West Hollywood Park and some local bars. Because of those checks people waiting to enter the festival event were lined up along Santa Monica Boulevard from its intersection with San Vicente to its intersection with Robertson Boulevard.
Another brief interruption occurred at Santa Monica Boulevard's intersection with Westbourne Avenue when a group of transgender activists tried to stop the parade. Members of the group demanded more awareness of transgender issues, a subject raised weeks ago when members of the community learned that Christopher Street West, organizer of the Pride event, had decided to reduce its focus on transgender people at the Pride festival and turn it into a music festival aimed at young people. People on the scene told WEHOville that sheriff's deputies interrupted the protest so the parade could continue.
An attempted interruption led to the removal of Nir Zilberman, the owner of a local clothing store who is known for his loud and bombastic comments at civic events, including meetings of the West Hollywood City Council. Zilberman walked up to the West Hollywood city commission float, which included members of the city council and various city commissions, to object to their participating in LA Pride after the Orlando attack. Dressed as a Nazi concentration camp victim and waving Israeli, American and gay rainbow flags, Zilberman walked alongside and in front of the float, screaming obscenities and making obscene gestures to those on it until he was handcuffed and removed by a Sheriff's deputy. On his Facebook page Zilberman said he "almost went to jail, for speaking my mind, for saying the truth, for being the voice of those LGBTQI they lost they lives to AIDS. It's nothing more sad, to see our LA FAKE PRIDE, keep going on with loud music, men in underwear and like i always say, LIVING IN A FANTASY LAND."
NOTE:  An earlier version of this story said that Nir Zilberman was arrested for his activity adjacent to a parade float.  In fact Zilberman was not arrested. He was removed by deputies from the parade route. The story has been updated to reflect that.