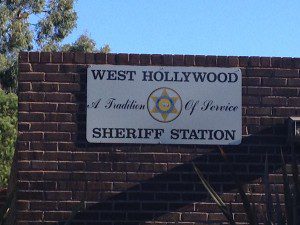 As part of its effort to improve communication with the public, the West Hollywood Sheriff's Station has begun to release a detailed weekly "crime blotter" that calls out incidents in WeHo.
What follows is a list of incidents released today that occurred from
May 30 to June 5. The times are indicated in as Military Time, a concise form in which midnight is indicated as 0000 and noon as 1200.
May 30
Grand Theft – Person
Larrabee Street / Santa Monica Blvd 05/30/2016 @ 0255-0315. A male adult was pick pocketed and his cell phone and wallet were taken. Loss $1200. #03064
Armed Robbery
9000 Block Santa Monica Blvd. 05/30/2016 @ 1700. A male transient took a bottle of vodka and attempted to leave the store without payment. The suspect threatened to use a handgun when stopped by security. The suspect was arrested. Loss $26.50. #03079
May 31
Aggravated Assault
1400 Block Sweetzer Avenue 05/31/2016 @ 1850. A female adult was hit on the shoulder with a tire iron by a male adult during an argument over a parking space. The suspect was arrested. #03105
Armed Robbery
600 Block Robertson Blvd 05/31/2016 @ 0115-0119. Two men were walking to their car when they were robbed at gunpoint of their cell phones by two male adult suspects. Loss $1290. #03088
June 1
Vehicle Burglary
500 Block N Sweetzer Avenue 06/01/2016 @ 0500-0515. Sunglasses and clothing were removed from the interior. No sign of forced entry. Loss $1400.
June 2
Grand Theft
500 Block Orlando Avenue 06/02/2016 @ 1210-0830. Four tires and rims were taken from a 2014 Mercedes C350. Loss $5K. #03135
June 3
Vehicle Burglary
500 Block West Knoll Drive 06/03/2016 @ 2230-0930. A GPS device, sunglasses, and miscellaneous tools were taken from the floorboard of the vehicle. The vehicle was unlocked. Loss $1300. #03172
June 4
Burglary – Commercial
9100 Block Sunset Blvd. 06/04/2016 @ 0642. The suspect smashed a window to gain access and removed laptop computer. Loss $1100. #03170
June 5
Burglary – Commercial
8800 Block Sunset Blvd. 06/05/2016 @ 0300-0630. The suspect smashed the front glass door to gain access and removed $100 cash and a credit card reader. Loss $1300. #03188
Vehicle Burglary
1000 Block N Harper Avenue. 06/05/2016 @ 2200-1100. The suspect used force on the passenger's side door to gain entry and removed clothing and credit cards from the center storage area. Loss $3800. #03210
Aggravated Assault
600 Block Robertson Blvd. 06/05/2016 @ 0230. Two men had a short physical confrontation inside the club for unknown reasons. Punches were thrown by both suspects. Both suspects were arrested. #03185
Aggravated Assault
8200 Block Santa Monica Blvd. 06/05/2016 @ 1058. A female transient raised a patio chair over her head with the intention of striking an adult female. The victim was able to avoid being hit and the suspect was arrested. #03190