Blake Leibel, the man accused of torturing and killing his girlfriend in their apartment on West Hollywood's Holloway Drive, refused to leave his jail cell yesterday for a court appearance.
The story of Leibel's refusal was first published by Canada's National Post, which has covered the murder extensively because Leibel is the son of a wealthy and well-known Toronto real estate developer.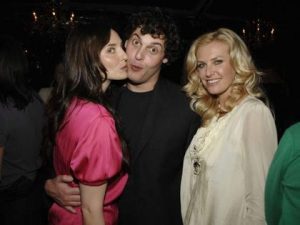 Leibel has been charged with torture and murder in the death of his girlfriend Iana Kasian, who also is the mother of his young daughter. Kasian, 30, an immigrant from the Ukraine, was murdered sometime between May 23 and May 26. In addition to torturing her, Leibel bled all of the blood from her body. According to WEHOville sources, the apartment has not yet been cleaned of the blood and other debris because Leibel's lawyer has sought an injunction barring law enforcement from doing so, alleging that evidence in his behalf might be destroyed.
The hearing was to have been on Leibel's mental competence and likely would have resulted in a doctor being asked to examine his mental health. It has been postponed to June 23.
The watch commander at Twin Towers Correctional Facility, where Leibel is held, told the National Post that guards can't force inmates to go to court.
"Do inmates refuse to go to court? Yeah, of course," watch commander Joe Reveles said. "If he didn't show up in court, then he's a court no-show."
Leibel was arrested by West Hollywood Sheriff's deputies on May 26 after his girlfriend's mother alerted them out of concern she hadn't heard from her daughter in many days. Leibel has pleaded not guilty to one count each of murder, torture, mayhem and aggravated mayhem.
He is the son of Lorne Leibel, a real estate developer and former Canadian Olympic sailor. Leibel is also known as "Lorne Leibel Ferrari Man" for his obsession with motor car racing. Leibel is identified as owner of a 6,143-square-foot mansion in Bel Air that Lady Gaga has leased for $25,000 a month.
Leibel is the creator of graphic novels and has written screenplays and worked on a television series. He is married to and had a child with another woman, Amanda Braun, with whom he lived in a Beverly Hills mansion. He left Braun last summer, when she was eight months pregnant, and filed for divorce in July 2015. In August 2015 Braun gave birth to their second son.