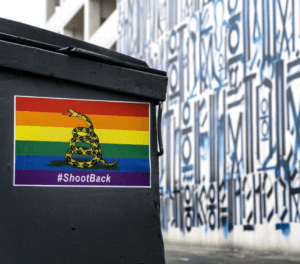 The Pacific Design Center management this morning evacuated the PDC Red building after someone sent a bomb threat to Grindr, the gay hookup app that is headquartered there.
Steve Afriat, whose firm represents the PDC, said the bomb threat was sent to Grindr through its website last night.  "It actually wasn't discovered until today when they arrived in their offices," Afriat said of the Grindr staff. "They immediately reported it to the PDC management. They evacuated the building. Then PDC security and some of Grindr's own people did a sweep of the Grindr offices and the entire floor. The sheriff's department followed the PDC with their own security."
Afriat said nothing dangerous was found. PDC management decided to evacuate the entire Red building, which was empty for several hours.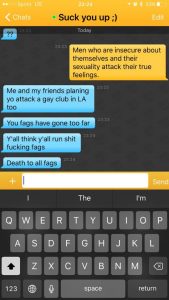 The evacuation sparked a rush of Twitter messages, noting that Red building workers were told to turn off their cell phones and evacuate immediately.
The threat was likely sparked by publicity about the massacre of 49 LGBT people at Pulse, an Orlando gay nightclub, on Sunday. That massacre particularly resonated in West Hollywood, which this past weekend hosted the 46th annual LA Pride festival and parade. Police in Santa Monica on Sunday morning arrested a man from Indiana who said he was headed to the Pride parade after finding assault rifles and bomb materials in his car.
The alarm over the Orlando massacre also has prompted someone to put posters up across West Hollywood labeled #ShootBack that call for LGBT people to arm themselves with guns and fight back. Capt. Holly Perez of the West Hollywood Sheriff's Station urged people not to over react. "… We understand the sentiment and people feeling the need to respond, but I'm worried by this kind of feeling or rhetoric being put out. We don't need anyone starting violent reaction to an already tense situation," she said.
The LAist speculated that the posters were the work of Sabo, a street artist who's known for his right-wing images. It said it contacted Sabo, who responded via email with these messages:  "ALL I CAN SAY IS "JUST BECAUSE YOU'RE GAY DOESNT MEAN YOU HAVE TO BE A PUSSY." ;)"  And ".P.S. #SHOOTBACK"
Another social media threat that has been passed along to law enforcement officers involves a post on Grindr  by someone who said: "Me and my friends planing yo (sic) attack a gay club in LA too. You fags have gone too far…"