West Hollywood is considering embedding lights in the street to alert drivers to pedestrian crosswalks and has decided to increase the intensity of lighting at five crosswalks along Santa Monica Boulevard.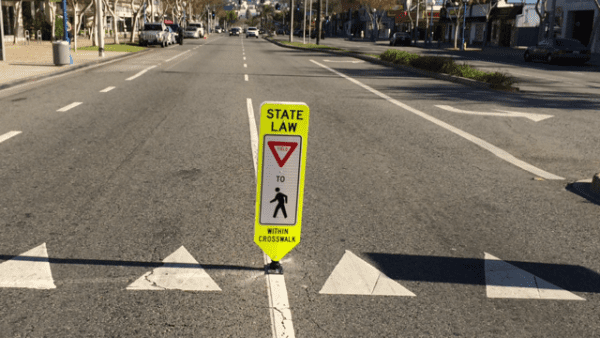 A report to the city council from the city's Community Development, Public Works and Public Safety departments and communications division outlines efforts underway to improve pedestrian safety since the August 2014 death of Clinton Bounds prompted demands from residents for the city to act. Bounds was struck by a car and killed while crossing Santa Monica Boulevard at night. While early indications were that he was hit in the crosswalk at Hancock Avenue and Santa Monica Boulevard, later indications were that he was jaywalking while intoxicated.
Major changes that have been instituted or are planned include:
— On Santa Monica Boulevard between Orange Grove Avenue and Ogden Drive the city is removing crosswalks at Orange Grove Avenue and Ogden Drive and will install a new pedestrian-activated, mid-block crosswalk with a stop signal. Work is anticipated to begin this summer.
— On Santa Monica Boulevard between San Vicente and La Cienega boulevards, the city will install traffic signals at crosswalks at Palm Avenue, Hancock Avenue, Westmount Drive and West Knoll Drive. In addition to the new signals, the traffic medians on Santa Monica Boulevard will be altered to allow cars access at Westmount Drive and West Knoll Drive. These changes are currently being designed and plans will be presented to the city council on July 18.
— On San Vicente Boulevard, rapid-flashing lights will be installed at the crosswalk between the Pacific Design Center and West Hollywood Library Crossing to improve its visibility. The installation will be coordinated with the removal of similar flashing lights on Santa Monica Boulevard at Orange Grove Avenue later this year. That light will be used on San Vicente.
— At the intersection of Fountain and Hayworth avenues, the city will install rapid-flashing lights to make the crosswalk more visible. The light that is installed will be the one removed from the Santa Monica Boulevard/Westmount Drive crosswalk.
— Early next month the city will install in-road warning lights on San Vicente Boulevard and Harratt Street and improve pedestrian warning signs. The city will conduct a three-month test of in-road lights. If they are effective, it may expand the tests to other locations.
— The city has finished a study of lighting at its crosswalks and will install lights 50% brighter than national standards at the crosswalks at five locations on Santa Monica Boulevard. That installation will be done after the city completes its negotiation with SoCal Edison to buy streetlights in West Hollywood owned by the utility.
The city also has finished its citywide crosswalk study and will incorporate its recommendations into the city's Pedestrian and Bicycle Master Plan Update, anticipated to be completed by end of this year.
The report calls out interim measures, implemented because of the time required to make permanent changes. Those measures include trailer-mounted lighted signs and the installation of in-street pedestrian crosswalk signs or "paddles" at ten crosswalks without traffic signals along Santa Monica Boulevard.
Since the installation of those signs and the launch of a public information campaign about crosswalk safety, pedestrian-related collisions at the ten crosswalks have decreased from eight in 2014 to zero in 2015, the report says.
The report also notes that the Sheriff's Department has conducted regular crosswalk enforcement operations. The last one, on June 8 at six locations, resulted in 102 citations. Seventy five percent were issued to motorists for failing to yield to pedestrians, 14% were for cellphone/texting violations and the remaining 12% or miscellaneous violations (no insurance, no driver license, etc.).