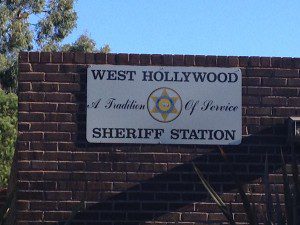 Below is the weekly crime report from the West Hollywood Sheriff's Station that calls out incidents in WeHo from June 6 to 13. The times are indicated in as Military Time, a concise form in which midnight is indicated as 0000 and noon as 1200. The number at the end of each incident is the case number.
June 6
Grand Theft – Person
8500 Block Santa Monica Blvd. @ 1100-1200, a wallet and cell phone were taken after being left unattended in the pool area. Loss $1K. #03255
Residential Burglary
1000 Block La Cienega Blvd. @ 1600-0130, a male transient was arrested after being found with items taken from two recent residential burglaries. Loss $700. #03225 & #03226.
June 7
Armed Robbery
8500 Block Melrose Ave. @ 0245 hours. The victim was followed after leaving a nightclub and robbed at gunpoint while walking on the sidewalk by a male adult. Loss – Necklace and watch. #03227.
Strong Armed Robbery
7100 Block Santa Monica Blvd. @ 1900 hours. A male transient removed clothing and a cell phone and left the store without payment. When confronted by store security, the suspect used force in an attempt to escape. The suspect was arrested. #03240.
June 8
Residential Burglary
1000 Block Hancock Ave. @ 0310 hours. A female adult and a male adult used force to open resident mail boxes and removed mail. Deputies responded and arrested the female adult. The male adult was able to escape. #03245
Vehicle Burglary
800 Block Westmount Drive. @2300-0830 hours. The front passenger's side window was smashed and a backpack containing a wallet was taken from the front seat. Loss $580. #03265
Vehicle Burglary
500 Block Croft Ave. 06/08/2016 @ 2030-1000 hours. A laptop computer was taken from the backseat. No sign of forced entry. Loss $600. #03269
June 9
Commercial Burglary
7600 Block Santa Monica Blvd. @ 0530 hours. A male adult transient was arrested after he climbed a wall to reach the roof and accessed the building. #03263
Commercial Burglary
7900 Block Santa Monica Blvd. @ 0525 hours. A male adult transient was arrested after attempting to force the front door of the business open. #03264
Residential Burglary
1000 Block Genesee Ave.@ 1000-2300 hours. A laptop, purse, and three cameras were taken from the bedroom. Entry was made through the unlocked front door. Loss $5K. #03283.
June 10
Grand Theft – Person
8600 block Melrose Ave. The suspect signed for and kept a mail package intended for someone else. Loss $3K. #03304.
June 11
Vehicle Burglary
8300 Block Rosewood Ave. @ 2130-1100 hours. The suspect used force on the rear window latch to gain access and removed the rear leather seats and a cell phone. Loss $2500. #03364.
June 12
Residential Burglary
500 Block N. Orlando Ave. @ 0502 hours. Two male adults were arrested after being found in possession of a stolen bicycle and stolen mail. #03360.
Commercial Burglary
8700 Block Melrose Ave. @ 2358 hours. Two adult males forced the front door open and removed two bottles of alcohol. Loss $70. #03382
Strong Arm Robbery
600 Block San Vicente Blvd. @ 0005 hours. A male adult was arrested after he took a tip jar from a service station at the CSW Festival and tried to walk away with it. When confronted by an employee, the suspect used force to break away. #03349.