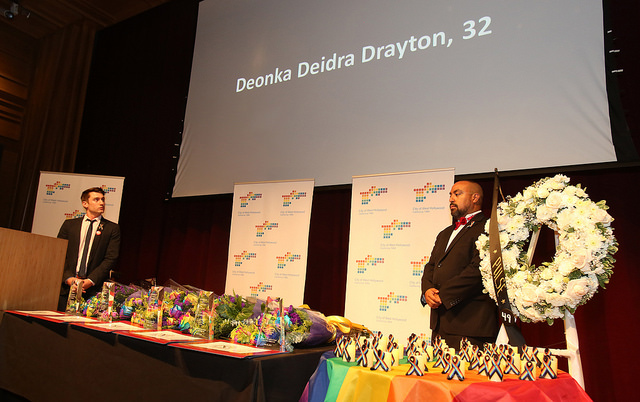 Recipients of West Hollywood's annual Rainbow Key Awards gathered at the City Council chambers last night for a ceremony that included a silent vigil during which the names of those massacred at a gay club in Orlando were projected on a screen.
Among those attending the ceremony were the first two recipients of the award. Bruce Vilanch the comedian, writer and actor, and actress Carole Cook, both AIDS activists, who received the award in 1993 and added a bit of comedy to last night's presentations.
Nominations for Rainbow Key Awards are received by the city's Lesbian and Gay Advisory Board, which makes recommendations to the West Hollywood City Council. The council selects award recipients. This year's Rainbow Key Awards recipients are:
— Jay M. Kohorn, civil rights attorney.
— Mark Lehman, lawyer and board chair of the National AIDS Monument Foundation.
— Carol Taylor-DiPietro, one of the creators of the first Gay Nights at Disneyland.
— Ruth Williams, former director of advocacy for the National Council of Jewish Women Los Angeles, longtime community volunteer, member of the city's Public Safety Commission.
— The West Hollywood Community Housing Corporation, which provides housing for people with limited income, including those with HIV/AIDS who have special needs. WHCHC was represented by Danny Pepper, its director of resident services, and Karl Lott, a lawyer with the firm of Holland & Knight, who chairs its board.
Past honorees have included activists, artists, civic leaders, educators and community organizations. Contributions, whether by an individual or a group, may be in many forms, including the arts, community action, humanitarian action, sports, medicine, armed services, leadership potential, benefit to the global gay and lesbian community or in other ways. More than 125 Rainbow Key Awards have been presented during the past 23 years.