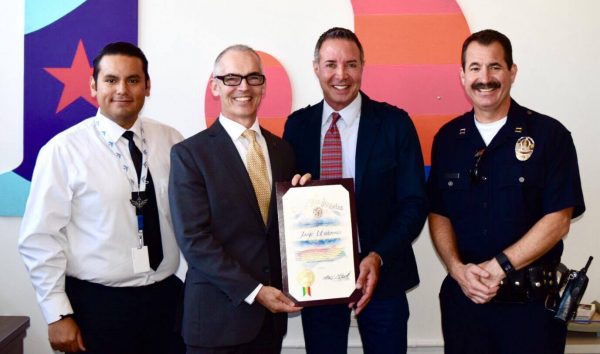 Jorge Usatorres, who sold the Faultline bar this Spring after achieving his goal of "reinvigorating" that iconic gay hangout, has been honored by L.A. City Councilmember Mitch O'Farrell for funding two scholarships for LGBTQ students at Los Angeles City College.
"I'm deeply humbled by this recognition and to have it come from such an amazing guy like Mitch O'Farrel is beyond belief," Usatorres posted on his Facebook page. "Thank you very much to my LGBTQ community especially Johnny Cruz of the Spectrum LGBT Alliance at LACC and Capt. Jeff Nolte! You guys rock!"
"In so many ways I regret leaving Faultline," Usatorres said. "The people I've worked with — staff, promoters, DJ's, performers — are so amazing. I feel so happy to have met them. But I have accomplished what I set out to accomplish, the saving of a gay landmark. Now I'm ready for new challenges."
An asset director and risk manager for a major commercial investment company, Usatorres heard Faultline was for sale and visited it in 2014. He quickly fell in love with the place. "I saw something that was almost transformative," Usatorres said in an interview with WEHOville. "It wasn't made up to be pretty. It was real. I bumped into every one of the six flat panels playing porn, and said 'Oh my!'"
"I thought, 'I love this place.' I felt more comfortable here than I felt in any other bar," said Usatorres, who himself is sober.
Usatorres bought Faultline from its then owner, Shawn Farnsworth. Farnsworth had purchased the bar in 2001 from Bill Hobson and Ralph David Morrison III, friends of his who had bought the bar in 1993. Its history as a gay hangout extends back almost 40 years. It had been known as the Stud before being converted into 1988 to the Zone and then in 1989 Griff's. Griff's was owned by Griff Griffin, a member of the Satyrs MC, the gay motorcycle club. Usatorres sold the bar earlier this year to Ruby Nuna, who has said she is committed to keeping its diversity alive.
The scholarships are granted through the Los Angeles Foundation, which provides scholarships and opportunities to LACC students. Applications can be made online.