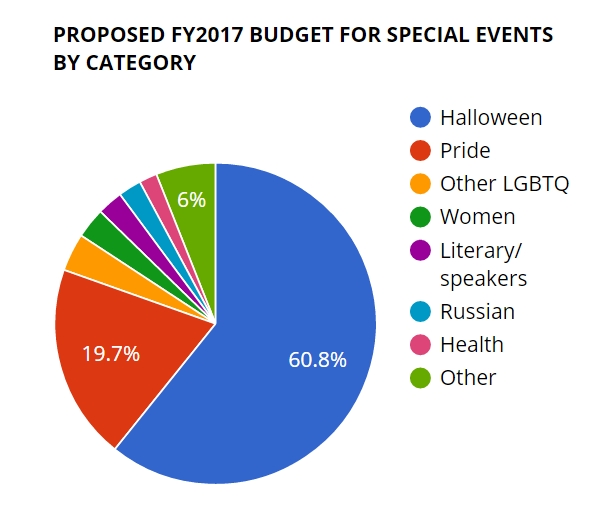 The City of West Hollywood will spend $2.3 million for 42 special events in the fiscal year that begins July 1. That is $66 per resident, not including the cost of staff time devoted to the events. Those numbers come from a WeHo by the Numbers report on the fiscal year 2017 budget.
Eighty percent of the special events money is for two events: Halloween and LA Pride. Halloween is budgeted at $1.4 million, or $40 per resident. Pride is budgeted at $460,000, or $13 per resident. Police and fire services represent about 60% of the city's cost for these two events.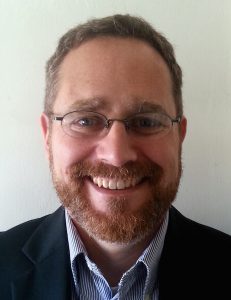 The other 20% of the special events budget is spread among 40 different events. They include the Russian Cultural Festival ($54,400), WeHo Reads ($41,400), the Women's Leadership Conference ($35,000), National Night Out ($28,600), the Lesbian Speaker Series ($27,400), Women's History Month Programming ($21,000), Sober New Year's Eve ($20,600) and the Kid's Halloween Program ($20,200).
The report summarizes the spending by grouping the events into categories: 61% of the budget is for Halloween, 20% for Pride, 4% for other LGBTQ events, 3% for events of particular interest to women, 3% for literary events and speaker series, 2% for Russian cultural events, and 2% for health education and screening events. The remainder is for public safety, youth, senior and other kinds of events.
The report does not estimate the cost of staff time devoted to special events. That time is spread across many different city divisions. For example, the Special Events Division spends $1.4 million on its staff. That is separate from the $2.3 million budget for special events.
The new city budget does not provide special-event attendance numbers. In 2011, the city estimated there were about 650,000 attendees, including residents, workers and visitors. Almost 90% of attendees were at the five biggest events: Halloween (400,000), Pride (125,000), the AIDS Walk (25,000), the LA Marathon (25,000), and the Sunset Strip Music Festival (11,000). The AIDS Walk is leaving West Hollywood this year and the Sunset Strip Music Festival has ended.
For the full list of special events, please see the WeHo by the Numbers article, What special events does the City of West Hollywood fund? Estimates of the 2011 cost per attendee can be found at How much do our special events cost per attendee?