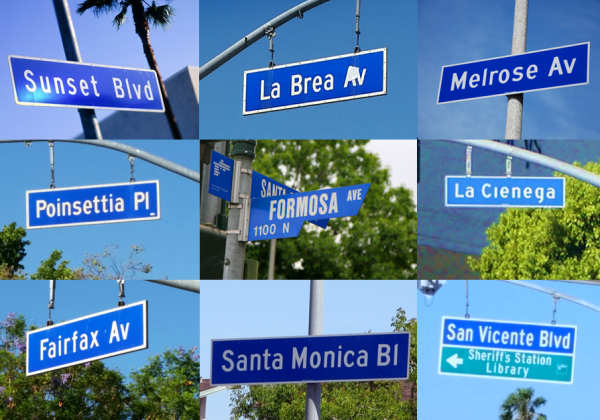 What's in a West Hollywood street name? Some reference land grants called "ranchos" from a period when the area was a vast coastal plain of marshes, tar pits and orchard groves. Others hint of the family histories of the men who developed the land, while one even gives a glimpse of the story-behind-the-story of a well-known Bette Davis quote.
Somehow 112 public streets have been squeezed into the city's 1.9 square miles. A few names have multiple possible origins, others have none. As a group though, West Hollywood's street names are a special lot and offer a local history lesson that's hard to find anywhere else.
Just don't expect to come across a Charlie Chaplin Avenue or Mary Pickford Street in honor of the city's motion picture pioneers. Nearly all roads were built and named either before movie studios set up shop locally or just as "talkies" came on the scene. This also explains why stalwarts of the gay rights movement don't show up on any street signs either.
And another thing: If you don't like the name of your street, don't get your hopes up about changing it. You'll spend a lot of your own money and probably still lose. The City of West Hollywood makes it all but impossible to change a street name. Just ask the Dicks Street residents, who sought to rename their street in 2005 as Dickson Street because, well, Dickson is not a slang term for male genitalia. For a street that extends only two blocks, Dicks Street has garnered worldwide attention. On the surface, the proposed change seemed straightforward and sensible. Residents said they endured constant embarrassment whenever they had to tell anyone where they lived.
No one was able to say with certainty how or when the name came about, which appeared to eliminate any historical imperative to keep the existing name. The city council rejected the name change request anyway, given the complexity, inconvenience and lengthy process involved.
Council members then adopted a stringent policy in 2007 that requires residents seeking a street name change to pay a total of $5,000 in up-front fees. Streets can't be named for deceased people until at least two years after they have passed away, the policy stipulates. This ensures they don't somehow screw up their reputations from the grave. It further discourages naming streets after living persons unless substantial contributions of cash or other considerations are in play. The city's policy notes that there has been only one name change since cityhood in 1984. That happened in 1986 when Hamel Road was changed to George Burns Road on the comedian's 90th birthday.
A reluctance to name streets after anyone with a pulse was a big reason several members of the Los Angeles City Council struck out in 1967 when they tried to rechristen Fairfax Avenue in honor of Los Angeles Dodgers pitching great Sandy Koufax. An elbow injury had ended the future Hall of Famer's career the year before when he was only 30 years old. But streets aren't named for the living, explained the manager in charge of naming streets at the time for L.A.'s Bureau of Engineering.
"A person's a hero one year, but then he vanishes from the public eye or becomes a crum-bum in the years beyond," Harrison Kimball told the Los Angeles Times. Also, Kimball said, "It's an embarrassing situation if the street is named for a developer and then he ends up in the clink." Fairfax, by the way, was known as Crescent Avenue until 1913.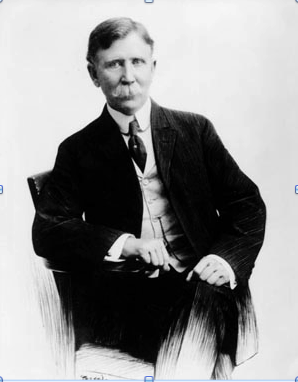 Edward Doheny, for whom Doheny Drive (1912) is named, flirted with going to the clink, in Kimball's words. The oil tycoon and philanthropist was tried twice on bribery charges – and found not guilty – related to the Teapot Dome oil scandal in the 1920s. Teapot Dome ranks as the greatest and most sensational scandal in the history of American politics prior to Watergate. Doheny was richer than John D. Rockefeller at one point, but all the wealth never brought happiness. Shortly before his second bribery trial began, Doheny's son was killed in a mysterious murder-suicide at the Doheny Mansion, or Greystone Mansion, as it is known today.
Before a name change in 1922 to Doheny Drive, the street was known as Clearwater Canon Road, according to tract maps recorded by the Los Angeles County Department of Public Works (LADPW). Clearwater Canon Road, which was dedicated in 1912, ran through the center of a neighborhood called Serenity Heights owned by Mary A. Larrabee, M.H. Hammond and J. Ross Charles.
Doheny and his second wife and widow, Carrie Estelle, (his first wife disappeared without a trace) were noted philanthropists in Los Angeles, especially regarding Catholic schools, churches and charities. Institutions that bear his name today because of his charitable contributions include the Doheny Eye Institute and the Doheny Library at the University of Southern California.
The Big Pieces of the Puzzle
Current day West Hollywood is comprised of parts of several large Mexican land grants awarded in the 1880s. That explains how four main streets got their names. The year when a street was officially dedicated is included, when known.
La Brea Avenue (1869): La Brea is the Spanish word for tar found in abundant supply, logically lending itself for this street's name. Early settlers used tar for waterproofing sod roofs of adobe houses. The street was part of the 4,439-acre Rancho La Brea land grant originally awarded in 1828. The property was purchased in 1860 by Maj. Henry Hancock for $2.50 an acre.
La Cienega Boulevard (1915): This street name reflects a section of marshland along the route that was always damp and its grass was green throughout the year. "Cienega" means marshland or swamp in Spanish, adapted from Rancho Las Cienegas, a 4,439-acre rancho land grant awarded in 1823 in a low-lying area west of Los Angeles.
San Vicente Boulevard (1900): No surprises here. The street is named for the Rancho San Vicente y Santa Monica, a 33,000-acre Mexican land grant given in 1839 to Francisco Sepulveda, a soldier and citizen of Los Angeles. The rancho included what are now Santa Monica, Brentwood, Mandeville Canyon and parts of West Los Angeles.
Santa Monica Boulevard (1907): An oddity about the city's street names is that none recognizes Moses Sherman, the founder of the Sherman community that grew into the city of West Hollywood. Not that he didn't try, of course. Sherman originally named the main road Sherman Boulevard after himself. Today, of course, it's known as Santa Monica Boulevard. As of 1907, there was a street called Sherman Place, which may have been Moses Sherman's fallback position since the main drag wasn't named after him. Sherman Place is known as Shoreham Drive today.
Because Santa Monica Boulevard is the only street that links L.A.'s east side with its west side, officials agreed it was best to have a single name for the entire route. The street name is taken from the 6,656-acre Rancho Boca de Santa Monica awarded in 1839 and literally means "the road leading to Santa Monica," according to Hollywood historian Allen Ellenberger.
National Public Radio station KPCC tells a more interesting story. It reported that Saint Monica is best known as the mother of St. Augustine, who was every mother's worst nightmare as a teenager when he was a big rabble rouser and carouser. "Monica spent the better part of 20 years praying that her son would straighten out his life. She became the patron saint of at-risk youth." That seems to be an appropriate name for the stretch of the street through Boystown, at least.
Agricultural / Floricultural Streets
Original roads actually followed farm and ranch tracts. Various street names reflect the kinds of crops, produce and flowers grown alongside them.
Greenacre Avenue (1912): No, it's not a misspelling of the CBS sitcom "Green Acres" that aired in the 1960s, but it is a general description of the lush fields of produce grown in the community.
Orange Grove Avenue (1906): Obvious enough, this street gets its name from the fruit orchards grown locally.
Romaine Street (1913): The history of romaine lettuce wouldn't seem to rate much attention in a town with all the glitz and glamour of West Hollywood. But there's a good reason a street is named after these dark, leafy greens that are believed to help prevent cancer. Nearly all of the country's yearly harvest today of romaine lettuce comes from California, thanks to farmers in the area that now is West Hollywood who were early adopters at the beginning of the 1900s. Over the years, it unseated iceberg lettuce as the predominate lettuce in the U.S., which once claimed 95 percent of the lettuce market. Romaine Street, by the way, originally was named Olive Avenue.
Poinsettia Place (1921) and Poinsettia Drive (1921): The enduring popularity of poinsettias in the U.S. is due largely to the gardening and marketing skills of a little-known West Hollywood family. Albert and Henrietta Ecke and their four children emigrated to the United States from Germany in 1902. They planned to stop briefly in Los Angeles before continuing their journey to Fiji.
They landed first in Eagle Rock and then moved to the Sherman community. They began growing fields of poinsettias on Harper Avenue just south of Sunset Boulevard in 1906. The sight of the red poinsettia fields began drawing busloads of tourists. A road through Ecke's field became Poinsettia Place. Today, it extends from West Hollywood south to Hollywood and Park La Brea.
Ecke also experimented with potted plants, shipping them east from his packing house on Sunset Boulevard. The packing house later became the Westside Market; today, it's the Roxy Theatre on the Sunset Strip. After his death, his son Paul began cultivating in earnest, trying to perfect the first poinsettia that could be successfully grown as an indoor plant. He promoted it worldwide and helped found the American Florists' Exchange, across the street from the downtown Los Angeles flower mart.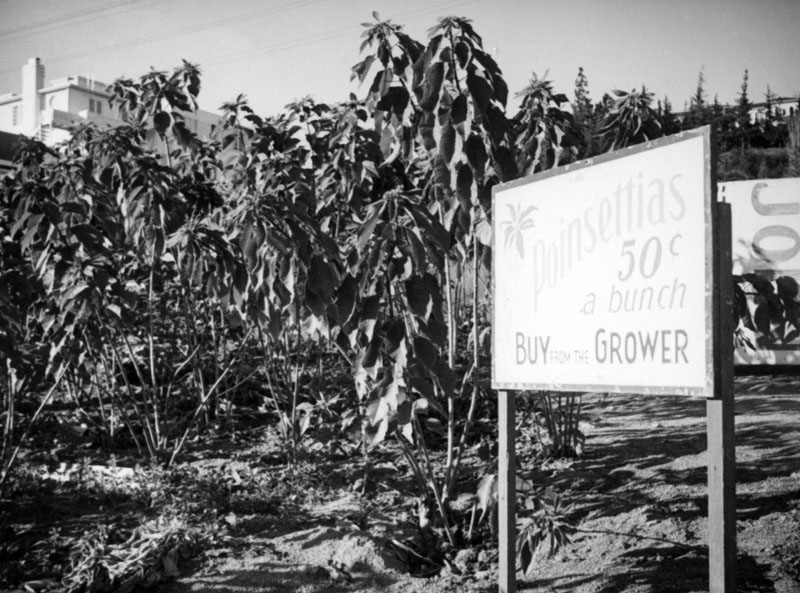 The Name Game
Naming streets wasn't always the buttoned-down process that it is today. When the community of Sherman wasn't much more than a lawless outpost in the hinterlands between Los Angeles and the beach cities, flexibility was the name of the game. Handwritten notes on tract maps recorded with Los Angeles County's Public Works Department are the only official record of many such changes.
The 1907 tract map for Sherman Heights, for example, established the Clark Street name (in honor of Moses Sherman's brother-in-law and business partner Eli P. Clark). Ozeta Terrace originally was named Hill Street, while Shoreham Drive initially was called Sherman Place. Notes added to the 1907 map for the A.A. Barnett Tract (essentially Hancock Avenue) recorded the transition from Sherman Avenue to Santa Monica Boulevard.
Also in 1907, the former Conklin Street and Whipple Avenue were combined into a single street that today carries the name of Hilldale Avenue. The McNair Place tract was a very large neighborhood bounded on the east by Fairfax Avenue and on the west by Gardner Avenue. Notes on its 1913 tract map established the new street name of Willoughby Avenue and changed the name of Olive Avenue to Romaine Street. It also recast the former Friend Avenue as Ogden Drive, while changing Fulton Avenue to Spaulding Avenue.
# # #
Sunset Strip historian Jon Ponder contributed to this article.
(Do you have information about your street's history for a future article? Please contact the author at the email address below to share stories about your street).