There is so much discussion about Airbnb and short-term vacation rentals. Everybody is blaming "the platform," the online booking agent. It's like blaming Expedia because your flight was delayed or Grubhub because the meal was lousy. Airbnb, HomeAway, MisterBnB or the others are not the source of the problem. They are just platforms to connect travelers and hosts. Just like anything and everything else that connects wants and needs in this new age economy.
The problem is people who abuse the system. The problem is landlords who keep units off the market to use them as vacation rentals. The problem is people who rent apartments for the sole purpose to re-rent those units as a hotel without any owner present. This issue at hand is not Airbnb but people who are greedy. At one city council meeting a famous man in town stood up to confess owning 14 houses and renting them all as short term vacation rentals. That multi-millionaire has 14 homes, a crew to service those homes, perhaps two bedrooms a house and is literally running a hotel. Please don't blame me for the abuse of others.
My story is quite different. I purchased a single-family residence when life was grand. My partner and I moved in together and both of us had incomes. Life happens and I became disabled. My partner moved out. My choices were limited. So I held on for a few years and then it was down to the wire. My Iocal business did not make enough for me to afford to stay in West Hollywood. I'd be closing the business and selling the house. It hurt me to face reality that I might have to move out of a city that was my home for the past 30 years.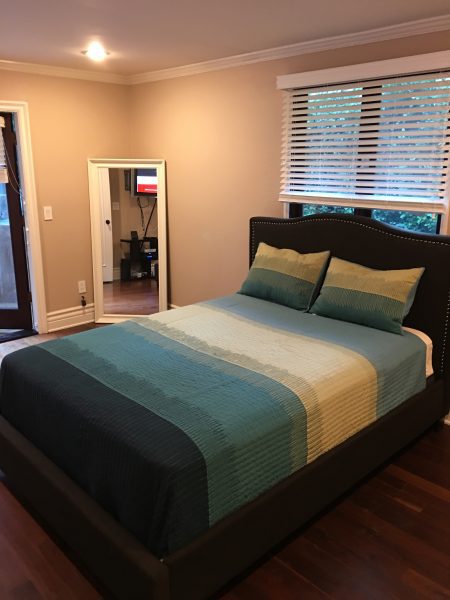 You don't know me but my contributions to this community are deep. Most everyday I serve this city in some shape or form to help others like me who have a disability or work for things for the community at large. But that service doesn't give me a pass. It's just that our city values aging in place for renters. And I think the city should value the needs of homeowners equally to those of renters.
There are so many programs for renters to age in place. But home ownership expenses go up and up. And if I sold my house, three condos would be built in its place, which would stress traffic and parking and add more density to an already crowded city.
So it was down to the wire, my local business was closing, and the agent came over to make a list of repairs so the house would be sold and Palm Springs here I come! At lunch with a best friend he said why not try one of the short-term vacation rental platforms and I listed my extra room on Airbnb and some others. It was 10 p.m. in June of 2015. There was no local ban on these short-term rentals. I woke up the next morning and had an inquiry to the room. The room didn't even have a bed. I moved my bed into the spare room and slept on the couch.
About a week later there was a second inquiry. You see a person who wants to make a reservation sends a request. The host will verify that guest. The verification process includes reviews by other hosts, something about the person, and a discussion of house rules. And upon leaving the guest gets a review. If you have bad reviews you will not be accepted by another host or by the "platform." It's up to each host to establish those rules. A year into this and about 100 guests later I've met friends, I've met neighbors, and I've traveled the world by staying at home. The host experience is no different then hosting a foreign exchange student. It's a fantastic learning experience and I've met friends from all over the world.
The second guest was a new grandma. Her daughter lived in West Hollywood West and just had a new baby girl. She wanted to visit and help with the newborn but was on a limited budget. She asked if the place was quiet during the day because she would be spending all night with her daughter. When she left she said 'thank you so much for hosting me, – I was able to afford a two days at a hotel but this helped me afford a week. The new grandma was so happy. I didn't really know the how much and how important an affordable place to stay meant to this grandma.
The most notable host experience I've had was a gay man from Palm Springs. His inquiry explained his surgery at Cedars Sinai. He was having esophagus surgery and would require help during the day. He stayed four nights. He asked if I would pick him up at the hospital because you cannot get discharged unless somebody other than yourself picks you up. He lay in bed all day with a tube in his neck until he had to return to Cedars. Yes he offered extra money, but I said no. He could not afford a recovery center. By the end of his stay and his final discharge from Cedars he came up to me and hugged me. When he pulled back you could see the tears in his eyes. That's a host experience.
One day a city council member came over to my house and I said, "I cannot tell a lie" and showed the council member my welcome book, the listing of the local restaurants and places to go. The council member turned to me and said "you're an ambassador" and I smiled. Yes I am. Proud of my city. Proud to host people and show them all the greatest things about West Hollywood. You don't get that in a hotel.
Other types of guests are usually from overseas. Young people who cannot afford a $300 to $500 a night at the local hotels. There is not a single hotel in West Hollywood that serves this market. These guests fall in love with WeHo.. and they spend their money here at our restaurants and bars and shops. Other guests are locals, many West Hollywood residents who perhaps are moving into their new apartment on the first and need a place before their apartment is available. So many people would rather spend $100 a night for a room rather then bother a friend, crash on a couch, or trek outside the city. Lets face it, the prices of the hotels are ridiculous. And if we don't allow short term rentals to meet this market need you can bet new large Super 8 hotels will be built somewhere, probably on the east side, and add to density and even more traffic and transients.
West Hollywood topography is also unique. Hotels like Le Parc, The Chamberlain, Le Montrose, The Charlie or Petit Ermitage among others sit in the middle of our residential neighborhoods. When I hear complaints about Airbnb transients it is not coming from owner-occupied units.
The rent stabilization rules also are very restrictive. If you rent a room in a home for more than 30 days the "tenant" could claim residence. The owner is subject to a minimum relocation fee of over $5,000. The city seems to legislate private property rights in the name of community that is an over-reach. I don't see any difference with hosting a foreign exchange student, or hosting a tourist. And the opposite also holds true. Remember the homeowner on Poinsettia who turned a home into a drug rehab? That is legal. Remember the homeowner on Huntley who turned a home into a pre-school. That is legal. In other words there are worse things than hosting a guest in your home.
There are other factors that are important in this mix and that is the services that some people use to abuse the system. One such service is named Pillow. It places a lockbox on the home or apartment and there is no owner present. That's abuse. Buildings such as the Dylan who are zoned for rentals and are then turned into hotels are completely wrong. Those rental buildings and rental units compromise the available housing stock. My extra bedroom does not compromise available housing stock. In fact, it has helped me stay in the community and contribute to this city in many ways.
If you own a condo you are governed by the homeowners association rules. If you are a renter your apartment is governed by your lease. I'm not sure where the city takes over and becomes the 'police' rather than the landlords and homeowners associations being the responsible party for the buildings they own or manage. The city's responsibility is those large apartment buildings who are abusing their certificate of occupancy.
As the city ponders a full ban or partial ban on short -term vacation rentals it is clear that the shared economy is here to stay. At first people thought to ban Uber and Lyft but those people were short-sighted. The best way to move forward is to allow a single family homeowner who is present to rent a room in their home. Register those units. Use the tax revenue from those units to offset the compliance costs for the people who are abusing the system. Turn it into a win-win for the city, local businesses and economy travelers to share our beautiful city. Perhaps the city should take a different approach and develop a Welcome Host program. Banning short term rentals is not the answer to the future. Asking hosts to cancel the reservations made months in advance is not the right thing to do. We should put a plan in place that is effective January 1, 2017. Allow hosts to clear their reservations. Let's not let a few greedy landlords or people who are abusing the system ruin it for honest homeowners who have a spare room and need a little extra income. The alternative would be low end hotels, probably build on the east side. Don't you think there are enough hotels already in the city? And not one of them hits the market niche of a 20-40 year old traveler on a budget.
We are in a new age economy and the city council should realize that 'affordable housing' does not only apply to renters. One council member stated clearly in the last discussion. "Renting a room in your home is also part of helping make a home affordable" The costs of owning a home are going up as some of us get older and have declining incomes. Aging in place is not just for renters.
And that my friends is the story of how I bridged the gap to keep the "gayest store on earth" alive to see a better day.
Currently my room is no longer listed on Airbnb but the reservations made months in advance are being honored.
EDITOR'S NOTE: WEHOville has granted the author of this opinion piece an exception to its requirement that writers of such pieces identify themselves because his rentals may be seen as a violation of the city short-term rental ordinance.