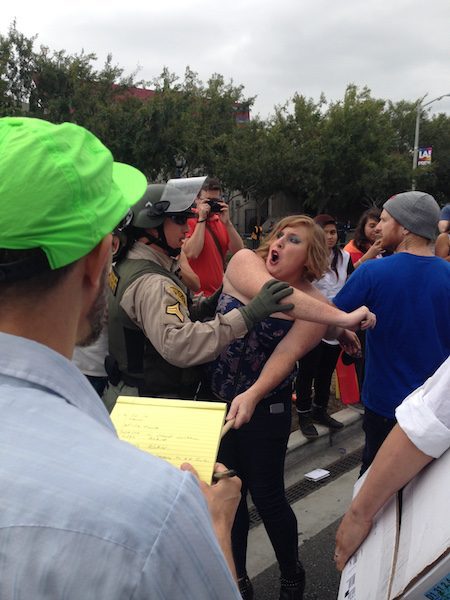 Bamby Salcedo, a leading transgender activist, has complained that sheriff's deputies roughed up people participating in the "Reclaim Pride" demonstration at last month's L.A. Pride parade.
Salcedo voiced her complaint last night at the West Hollywood City Council meeting. She distributed to council members copies of a letter from Ameena Mirza Qazi, executive director of the National Lawyers Guild of L.A., which monitored the incident.
"In light of the tragic deaths in Orlando the night before and the arrest of a heavily armed young man headed to Pride that morning, the city and Sheriff's Department's decision to focus their law enforcement resources to aggressively confront peaceful demonstrators was grossly misplaced," Qazi wrote.
Salcedo, in an interview with WEHOville, said she worked with other leaders of the Trans Latin Coalition to organize a demonstration of their opposition to the direction of the annual L.A. Pride festival. Under new leadership, Christopher Street West (CSW), the non-profit group that produces the parade and festival, had announced it was recasting Pride as a music festival aimed at young people and that it was raising the festival admission price by 40% to 50%. To accommodate the increase in musical performances, CSW had decided to reduce programming focused on the lesbian and transgender communities. That decision prompted threats of a boycott of the event until CSW decided to back down somewhat.
The Pride parade took place on Sunday, June 12, on Santa Monica Boulevard from Crescent Heights to Robertson Boulevard. Salcedo's Reclaim Pride group assembled with coffins made of cardboard. "Each of the coffins had different messages," she said. "One for was for youth, one was for the elderly, one was for immigrants and so on … Our message was to stop killing our culture. The Pride movement, the gay movement, started not as a parade but as a revolution. We wanted to send a message that now more than ever we needed to organize. Pride is not about getting drunk and wasted. Pride is not about making money, for people to be charged to get into festivals. Pride is about being who we are."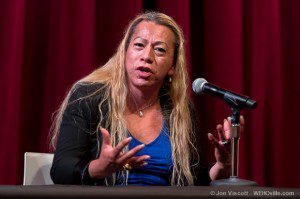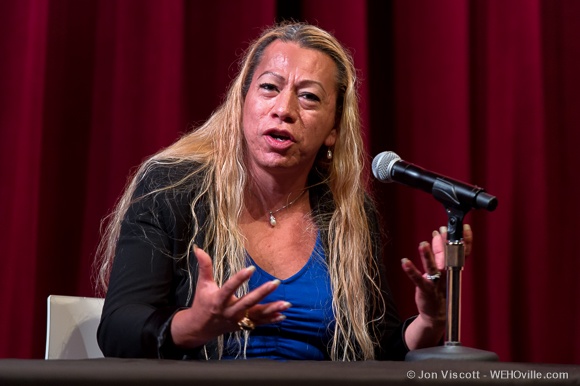 "Before the parade started we sort of blocked the parade to send a message," Salcedo said. "The organizers of CSW came to me and said just go to the front and lead the parade."
Salcedo said that suddenly some 20 deputies on motorcycles appeared behind her group "trying to intimidate us …. When we were past LaCienega (Boulevard), we did a die-in. Obviously that slowed down the parade. That was the whole idea."
"Then all of a sudden, just out of the blue, we saw the riot squad just pulling to the side. I told everyone to get up. There were officers in full gear. We all got up and started walking. They came and told us to move to the side. We said no, we're parading like everybody else … We just continued walking. Then they started pushing people. They got our coffins and started tearing them up."
Salcedo acknowledged that law enforcement officers might have been especially nervous because of the massacred of LGBT people earlier that day at the Pulse nightclub in Orlando. "I understand that Orlando happened, but that doesn't mean that we get to be mistreated and marginalized."
Capt. Holly Perez, who heads the West Hollywood Sheriff's Station, said she has asked one of her lieutenants to look into the complaint from Salcedo and Qazi.
"Whether it is a perception of inappropriate interaction or it is actual inappropriate interaction, that is a concern," Perez said.
Perez, who was named captain in February, has initiated several efforts to have members of the sheriff's station interact more often with the community. They included releasing a weekly local crime report and "coffee with the captain" and local walk-abouts that allow her and other key officers to meet and talk with residents.