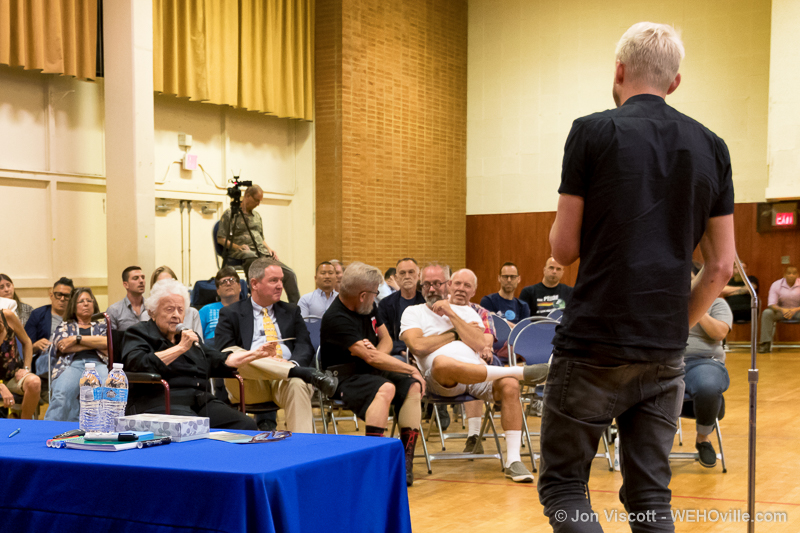 Members of the LGBT community, representatives of local non-profit groups and people living in the West Hollywood West neighborhood turned out tonight for the first of two public meetings about L.A. Pride.
Tonight's meeting, organized by the City of West Hollywood, was intended to elicit feedback on the Pride parade and festival in June, with attendees noting what they liked and what they didn't like about the event. But it quickly turned into criticism of the direction in which the new management of Christopher Street West (CSW) has taken the event and of CSW's lack of transparency and engagement with the community. CSW is the non-profit group that puts on the annual L.A. Pride.
Several of the speakers talked about their disappointment that CSW had decided to change the weekend of events in West Hollywood Park into what it called a "music festival" whose goal was to appeal to Millennials. That involved adding a number of music performances and an initial CSW decision, later partially reversed, to reduce the presence of the transgender, lesbian and leather community events at the festival. One speaker, who identified himself as having been a volunteer with CSW for several years, said that Chris Classen, named CSW's president last year, told him that he wanted the Pride festival to be the "gay Coachella" and that it wasn't intended to appeal to every LGBT community. Classen said he didn't recall saying that.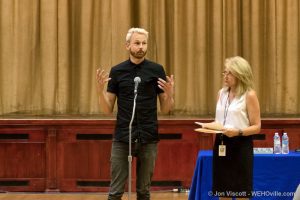 Representatives of several non-profit groups complained about problems communicating with CSW. A representative of the L.A. LGBT Center's addiction center said he had trouble making contact with the right people at CSW to plan the center's involvement with the festival. Jamie Baker of Being Alive, an HIV service organization, objected to CSW's decision to segregate non-profit organizations from booths paid for by corporate sponsors. "We should not be placed outside the festival or placed on 'non-profit' row," he said. Baker also said representatives of Being Alive were treated rudely. "We should not be yelled out, threatened with sanctions and in our case being called a bitch."
Classen also was criticized for making important decisions, such as turning the Pride event into a music festival, with a small cadre of fellow board members rather than allowing the full 12-member board to vote on them. While Classen said all major decisions were presented to the board for approval, several speakers said other board members had told them that wasn't true.
Manny Rodriguez, who lives in the West Hollywood West neighborhood several blocks from the festival, complained about the festival's impact on parking in residential areas.
"Because of the way it's going, and the direction that it's taking away from its original intent, why should we as a neighborhood have that burden?" he asked. "Our residents are unfairly inconvenienced by having to be the parking lot for this music festival." Rodriguez also criticized the festival's programming. "The only relevance to the gay liberation movement I think is the parade," he said. "Everything else is just a show …. Why does it have to corrupt the gay liberation movement by having it be so commercial?"
Joseph Arrelano, who identified himself as a 28-year-old Millennial, said he had volunteered for CSW for the last three years and is disappointed on its music festival focus. He said he is upset that "the past has been lost….. I believe in order to pursue forward we must look to the past to lay down the future."
Several speakers brought up the cost of tickets to the festival, which were increased initially by 40% for admission on Saturday and on Sunday (CSW lowered the increase to 17% after complaints by the community). Eric Gonzales of the Los Angeles Volleyball Organization said that the festival looked impressive with its array of large LCD screens and props and decorations. "But was it really necessary?," Gonzalez asked. "Could reducing that reduce the cost and the tickets?"
Ivy Bottini, a prominent lesbian activist, pressed Classen to explain what she said were efforts to make the festival exclusionary. She cited CSW's effort to market private cabanas in an area of West Hollywood Park from which regular festival goers would be excluded. "You could rent one for $2,500 a day," Bottini said. (CSW did attempt to market expensive private cabanas with unobstructed views of the main music stage but dropped the effort for lack of response.)
In response to other questions and criticism, Classen said CSW is updating its website, which currently focuses only on the Pride music events and doesn't list board members, its mission statement or its financials. He also said CSW would soon be releasing its 2015 tax return, which the Internal Revenue Service requires to be made public for non-profits. Asked whether CSW had lost money on this year's event, Classen said they was likely. He said CSW wouldn't know for sure until it actually collected the revenue its corporate sponsors had agreed to pay for floats in the parade and booths at the festival.
Classen also was pressed on opening up the board of directors to new members. He said the board will be accepting nominees in September and voting on them in October. Several current board members who have been excluded from some major CSW decisions say they have been threatened with being booted off the board if they speak publicly about their concerns about CSW's management.
Mayor Lauren Meister, who attended the event along with City Councilmember John D'Amico, has asked for another community meeting on Aug. 17 at 6:30 p.m. at the West Hollywood Park Auditorium, 647 N. San Vicente Blvd. south of Santa Monica. Meister said that event will focus not on problems with the past event but on the next one. Meister invited those who couldn't attend tonight's meeting to offer their opinions on L.A. Pride through a survey on the city's website.